What Are the Benefits of Using a Ceramic Curling Wand?
A ceramic curling wand can provide several benefits that a standard clip curling iron cannot, including the ability to style the hair directly at the roots. It also eliminates the common kinks or tangles that a clip curling iron can create in the hair, and the ceramic material provides a less damaging type of heat than its metal counterparts do. In addition to all of these benefits of a ceramic curling wand, a single tool can also provide several different size options depending on the type used.
One of the main benefits of using a ceramic curling wand is the ability to curl the hair closer to the roots. Unlike a clip curling iron, which is used by wrapping the hair around the barrel from the ends up toward the roots, a ceramic curling wand is typically used by wrapping the hair around the barrel starting at the roots and working down to the ends, making it easier to get the wand as close to the roots as possible. Although this method is also possible with a clip curling iron, the sleek design of the ceramic curling wand makes it significantly easier to do.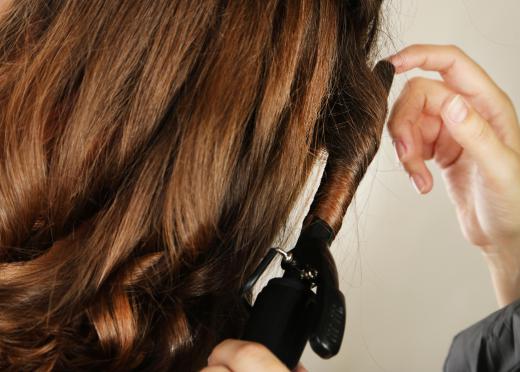 Another positive aspect of this type of styling tool is the fact that the hair is not clamped to the barrel. This practically eliminates the possibility of unsightly kinks developing in the hair, providing a perfectly-shaped, uniform curl every time. In addition to this, not being able to clamp the hair in the wand makes it highly unlikely that it will become tangled up in the ceramic curling wand, reducing the chances of severe damage.
While any type of heat styling naturally damages hair, the use of ceramic in these products help to reduce the amount of damage caused during the styling process. Ceramic is highly effective at conducting heat, which helps to eliminate hot spots that can singe the hair. It also helps one to achieve a tight, nicely-formed curl while leaving the hair on the heat for significantly less time than one would with a metal curling wand, also reducing damage.
The unique shape of a ceramic curling wand makes it possible for each individual product to provide a wide range of barrel sizes. As there is no clip to work around, many curling wands have detachable barrels, making it easy to switch out different sizes. Rather than have two to three different curling irons to achieve different styles, a ceramic curling wand allows one to have one product with two to three different barrels to achieve the same looks.
AS FEATURED ON:
AS FEATURED ON:







By: Africa Studio

Curling irons that utilize ceramic heat technology are recommended to ensure hair remains healthy.

By: Laurent Hamels

Ceramic hair straighteners may cause less damage to hair than traditional metal styling tools.