What Are the Common Cold Cream Ingredients?
Cold cream is a beauty product typically used to remove makeup and soften skin. There are many brands of cold cream available for purchase in retail outlets such as drug stores. People also can make the substance at home using a few common cold cream ingredients. This beauty product has several variations, but typical cold cream ingredients include mineral oil, borax, beeswax and essential oils.
Beeswax is an important component of cold cream, because it is often used as a base for the cream. This substance is typically low cost and works to soften skin. This product is normally sold in tubs or in blocks.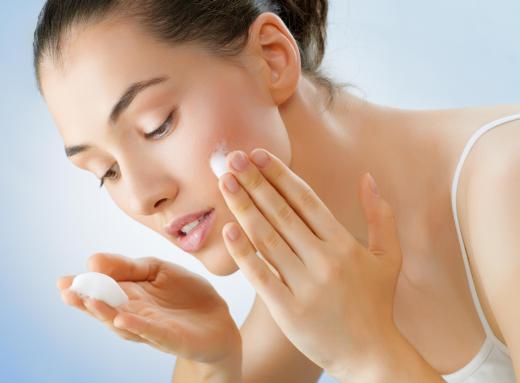 Mineral oil also is a vital item on the list of cold cream ingredients. Olive oil was a main ingredient in original cold creams dating back to the 1700s, but mineral oil later became a replacement because of its odorless and colorless nature. People making their own cold cream can find mineral oil on the web or in many drug stores. Many cold creams also contain a small amount of borax, which serves as a preservative.
Some cold cream ingredients, such as essential oils, help to keep the face moist. Scents also can be added to cold creams using essential oils, because the oils come in a variety of aromas. Common essential oil varieties include lavender, peppermint, spearmint and rosemary. Some essential oils also are known for having a calming effect. Using a cold cream that contains certain essentials oils can help a person to relax before bedtime.
A person can apply cold cream by simply using his or her fingertips to rub it on the face. Cold cream should be applied generously. A wash cloth, tissue or paper towel can be used to remove cold cream from the skin. Some people may choose to use warm water to wash their faces after the cold cream has been wiped away, but it is not necessary.
Makeup removal is a primary function of cold cream, but the substance also can be used regularly by people who have dry skin. A person who has naturally rough skin or lives in a dry climate may choose to make cold cream a regular part of his or her nightly routine. Cold cream advertising is typically geared toward women, but men with dry skin also can benefit from the product. People with oily skin may want to avoid using cold cream and look for alternative options for makeup removal.
AS FEATURED ON:
AS FEATURED ON:







By: Konstantin Yuganov

Cold cream was traditionally used to as a makeup remover.

By: Africa Studio

Mineral oil is a vital item on the list of cold cream ingredients.

By: Picture-Factory

Some cold cream ingredients help to keep the face moist.

By: tycoon101

Olive oil has been a main ingredient in cold creams since the 1700s.

By: Mikhail Malyugin

Beeswax is often used as a base for cold cream.

By: Monkey Business

Cold creams that contain certain essential oils may help a person to relax before bedtime.