What Are the Different Types of '70s Vintage Clothes?
The different types of '70s vintage clothes include a wide variety of styles reflecting the wide range of attitudes during the period. Women wore either extremely tight-fitting clothes, such as hot pants or loose peasant-style clothing. Men dressed down in bowling shirts or dressed up in leisure suits. Both men and women wore platform shoes in an effort to express the new heights to which they were reaching as people.
For women and men, '70s vintage clothes include a wide-legged trouser with a hem line stopping just below the knee known as gaucho pants. No wardrobe from the '70s was complete without a pair of bell-bottomed pants which were tight-fitting through the waist and hips and gradually flared to extreme portions at the hem. Women wore an unusually short, tight-fitting form of shorts and called them hot pants. They also wore hip huggers, which were tight-fitting and sat below the natural waistline at the hip.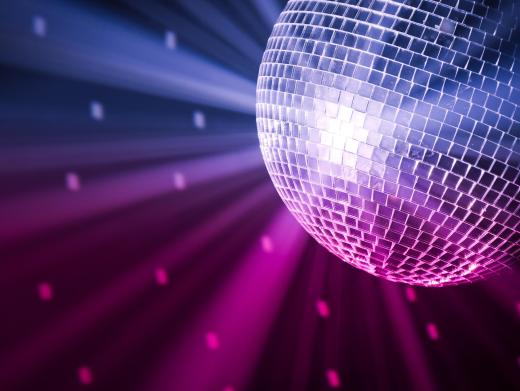 Suit styles began to change during this time, and one of the most common styles of the era was the leisure suit. This suit, inspired by John Travolta in the film about disco called "Saturday Night Fever," was made from brightly-colored polyester and had matching pants and a jacket. Women began to wear a more masculine style of pant suit with matching jackets, vests, and ties. Both women and men wore variations of the jumpsuits. Another vintage suit, which remains popular, is the jogging suit ushered in by the American obsession with fitness.
Another classic style from the era is the wrap dress, a dress made from one piece of fabric and wrapped around the body with a sewn-in tie, made popular by the designer Diane von Furstenberg. Other '70s vintage clothes styles include the peasant blouse, a flowing top with a drawstring in the neck line and a banded waist. Women also wore halter tops, a triangular top that tied around the neck and the waist, for either casual or formal attire.
Both men and women wore a ring with a stone that changed color with the body's temperature, called a mood ring. Men accessorized their suits by wearing multiple gold chains around the neck while women adorned their neck with multiple strands of shells or beads. The headband became an icon of '70s vintage clothes and was worn by both men and women as part of the fitness craze.
Preserving the authenticity of your '70s clothes and their groovy vibes requires special care. These unique vintage pieces have stood the test of time, and you want to ensure they continue to do so. Handwashing is a gentle way to show them some love, but you can take it a step further with best laundry sheets. These sheets are not only kind to the environment but also to your treasured garments. Just like the '70s, these sheets are all about good vibes – they keep your clothes looking as vibrant as they did when disco ruled the dance floors. So, groove on and keep your vintage wardrobe alive with the power of plant-based laundry sheets.
AS FEATURED ON:
AS FEATURED ON:







By: nikkytok

Styles popular during the disco era could be seen in the movie "Saturday Night Fever".

By: vladimirfloyd

Hot pants were popular in the '70s.

By: 14ktgold

Brightly colored or white suits may be considered a type of clothing from the 1970s.