What are the Different Types of Blackhead Removal Tools?
A blackhead, or comedone, is a hard, dark-colored top on a blocked skin pore which is difficult to extract. Many blackheads have a hard core of clogged oil and pus which is trapped beneath the surface of the skin. Removal of these types of blemishes often require more than just simple squeezing. This is when one of a number of blackhead removal tools can be used.
Only blackheads that have reached the surface of the skin can be extracted properly. Attempting to remove a blackhead and core that have not moved to the top of the follicle can be unsuccessful, and also very abrasive to sensitive skin tissue. Additionally, the oils and toxins of an underprepared blackhead can mix together and shoot back into the skin rather than out.
The first step in removing a blackhead is to clean the area well with soap, then steam with a hot compress such as a washcloth. This will loosen the blocked pore area and help with ease of removal. If simple squeezing doesn't work after cleaning and steaming, it is possible to utilize a simple blackhead removal device such as pointed tweezers. Unfortunately, this can cause scarring and damage to the skin.
A less invasive method is the use of a blackhead removal gun. This is one type of the wide variety of blackhead removal tools offered by drugstores and online companies. The gun is made of plastic and removes the comedone by vacuuming the oil, skin, and toxins out of the infected pore. These tools are ineffective at removing blackheads when not used in conjunction with cleansing and steaming, but they rarely damage the skin like other blackhead removal tools.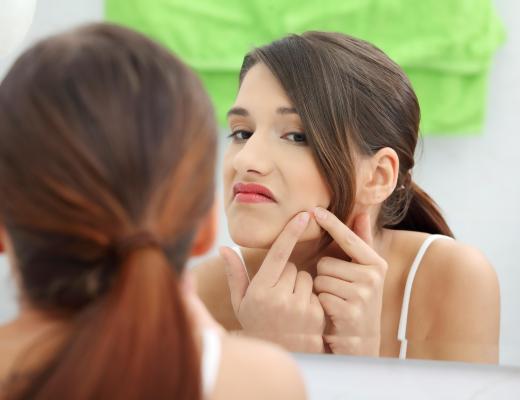 Blackhead removal strips are another of the types of blackhead removal tools available. These are sold in drugstores worldwide and use a special adhesive to rip blackheads out of their pores. Most strips require the user to wet them, apply the strip to the skin, wait a few moments, or until dry, then rip off in one fluid motion. These can be less damaging than other methods, but sensitive skin types may still be marred due to the force of peeling the product from the skin.
A more stringent method of removing blackheads involves the use of an extractor. Due to the invasive nature of these blackhead removal tools, great care should be taken to avoid damage and infection. Metal loop extractors come in the shape of a long, slender, metal staff. On either end are one or more metal loops that are used to apply pressure to the blackhead, forcing the trapped core to spring out. There is a wide variety of these types of blackhead removal tools including single loop extractors and double spoon extractors, used mainly on larger blackheads. Another type of metal loop extractor is a comedone extractor with lancet which is used to pop the tip of the blackhead before removing.
After extracting the blackhead, the pore should be properly cleaned again to remove oil and toxins. The area should be treated tenderly, especially if an especially invasive tool was used. To avoid further skin contamination, any removal tools should be properly cleaned after each extraction.
AS FEATURED ON:
AS FEATURED ON:







By: ampyang

Metal loop extractors are sometimes used for blackhead removal.

By: F.C.G.

A comedone extractor with a sharp point is best for use on a whitehead.

By: Piotr Marcinski

Improper blackhead removal can lead to scarring of the skin.

By: Tarzhanova

A tweezers may be used to remove stubborn blackheads.

By: miya227

Applying a steamed towel to the face can help unclog the pores and reduce the occurrence of blackheads.

By: Olga Lyubkin

Creams that contain salicylic acid may be helpful in treating blackheads.

By: Peter Atkins

Cleaning the affected area is the first step in blackhead removal.