What are the Different Types of Body Butter Lotion?
Body butter lotion contains rich, hydrating natural butters to protect skin. These butters make up the base of different types of body butter lotion. The butters are originally extracted from seeds and nuts around the world. Through cold-press methods or grinding the seeds or nut kernels, the extracted mixture releases beneficial fatty acids and oils. These are mixed with other ingredients to form homemade or commercial moisturizers.
All-natural butters lend themselves to being whipped into smooth and creamy textures, making them perfect for body butter lotion. Hydration occurs when the mixture establishes a barrier on the skin's surface. This barrier protects skin from harsh, drying elements, such as heating, air conditioning, sun, and wind.
Popular body butter lotions most often use Shea, mango, coconut and almond butter as a main component. Shea butter is a fat culled from the African savannah's karite nut trees. Shea butter lotions are used not only for hydrating but may heal sores and burns or diminish scars and stretch marks. Shea butter has a high level of fatty acid. Unrefined, pure Shea butter is available at vitamin and health stores. To enhance texture and odor, however, many Shea butter lotions are refined. In fact, some body butter lotion contains only small amounts of Shea butter.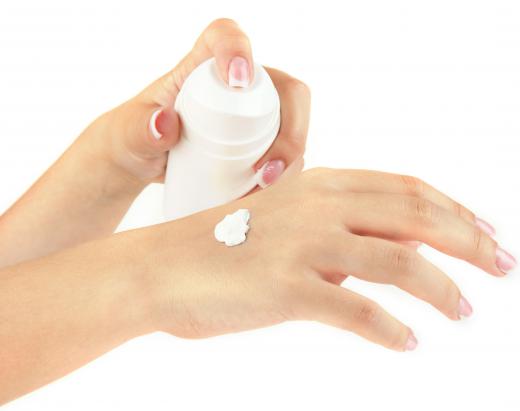 Unlike Shea, mango butter has a pleasant sweet smell. The tropical evergreen mango tree produces fruit and mango butter comes from extraction of the fruit's kernel. With a soft consistency and high level of oxidants, mango butter is often added to sunburn healing or itch-relief lotions. Body butter lotions with mango butter are sometimes recommended by dermatologists treating patients for blemishes or wrinkles.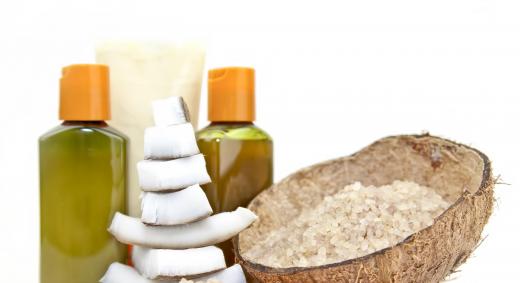 Another popular type of body butter lotion is made with cocoa butter, not to be confused with coconut butter. Cocoa butter comes from the cacao seed, and is the fat that makes chocolate smooth. For centuries, cocoa butter has been used as a skin moisturizer. It is added to many body butter lotions today because its cocoa mass polyphenol inhibits irritating skin conditions and it is easily absorbed by skin.
Coconut body butter lotions contain coconut oil, the liquid form of coconut butter. It is edible, coming from the meat inside a coconut, and acts as a natural moisturizer once produced into an oil. Coconut butter can be used in its pure form as a lotion. Its high saturated fat content may help with its long shelf life.
AS FEATURED ON:
AS FEATURED ON:







By: quayside

People with eczema may use body butter to soften the skin.

By: Africa Studio

Some rich, hydrating lotions contain natural butters to protect the skin.

By: alexmisu

Coconut oil is a popular oil to use in body butter.

By: Printemps

Cocoa butter is made from the cacao seed.