What Are the Different Types of Cosmetic Surgery for the Neck?
The neck is one of the most common areas to exhibit signs of premature aging. It is susceptible to excessive areas of loose skin and wrinkles, and it is a popular area for plastic surgery because of its high visibility. There are several procedures available to improve the appearance and feel of neck skin. Common types of cosmetic surgery for the neck include neck lifts, submental liposuction, neck band botulinum toxin injections and neck fillers.
A neck lift can be done independently or as part of a face lift. It involves two procedures: cervicoplasty and platysmaplasty. A cervicoplasty takes away excess skin from the neck region, which might have resulted from aging, weight loss or genetics. A platysmaplasty removes or changes the length and width of the neck muscles. Neck lifts are popular with people who want to remove their "turkey wattle," an area of loose, sagging skin.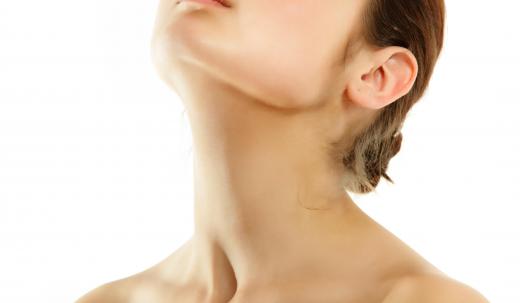 Submental liposuction is a procedure that removes unwanted fat from the neck area. Although neck fat can result from being overweight, it also can be the result of submental fat deposits associated with the normal aging process. Liposuction of the neck is considered less invasive and has a lower risk than a neck lift. A tube is inserted into a small incision, and fat is vacuumed out through the tube.
Neck band botulinum toxin injections are used to relax the muscles that cause the banded appearance in the neck. These bands can make the neck look fuller and wrinkled. Botulinum toxin injected into the bands is a newer type of cosmetic surgery for the neck and is one of the least invasive. It is particularly effective in combating necklace lines, sun damaged skin, wrinkles and the loss of collagen and elastin in the skin.
Neck fillers are popular when wrinkles are the main complaint. These fillers can be injected into neck bands and wrinkles to firm and smooth the skin. This option is most effective when wrinkles are the result of aging, not obesity. With botulinum toxin injections and fillers, patients might require regular treatments to maintain the desired results, but the frequency of treatments needed might decrease over time if the skin responds positively.
Cosmetic surgery for the neck involves specialized medical procedures. These procedures carry certain risks and contraindications. The benefits and potential risks of any procedure should be discussed in detail with a qualified medical professional.


By: iofoto

Cosmetic surgeries are often performed with a scalpel.

By: Gina Sanders

Cosmetic surgeons have at least one consultation with each patient before they actually perform surgery.

By: Khorzhevska

Getting a neck lift comes with all the risks of any invasive surgery, such as infection or bruising.

By: Monkey Business

One common type of cosmetic surgery for the neck is a neck lift.