What Are the Different Types of Makeup Artist Supplies?
A makeup artist is a person that is hired to apply cosmetics to people appearing in films, television shows, photo shoots, weddings, or other public outings. A person generally attends a cosmetology school to learn the skills needed to become successful in this job. The makeup artist supplies used can make a big difference in a person's appearance. Most makeup artists use professional-grade cosmetics, makeup brushes, and other tools, such as tweezers and eyelash curlers. Other essential makeup artist supplies generally include brush cleaner, sponges, makeup cases, and airbrush equipment.
Cosmetics are makeup artist supplies that must be selected carefully. Most in this industry purchase professional-quality foundations, pressed powders, blushes, and eyeshadows. Other necessary cosmetics typically include eyeliners, mascara, eyebrow powders, lipsticks, and lip liners. Various shades of each type of makeup is generally purchased to ensure that a makeup artist can achieve a number of looks, from natural-looking to glamorous, on a variety of different people.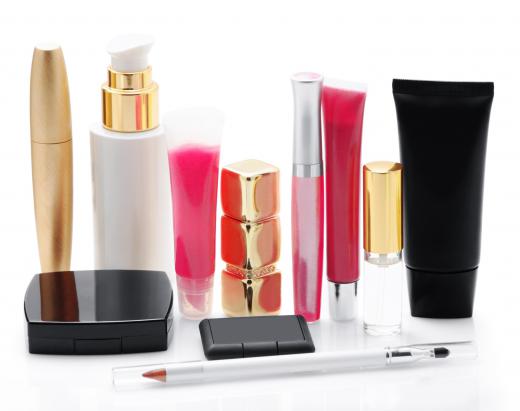 Makeup brushes are essential makeup artist supplies that give the professional the ability to apply cosmetics with precision. There are many types of makeup brushes designed for use with specific cosmetics, such as those for foundation, face powder, blush, and eyeshadow. Brushes made for applying eyeliner, eyebrow powder, and lipstick, as well as mascara wands are also an important part of a makeup artist's tool set. A brush cleaning product should be used on the brushes regularly to keep them clean and free of bacteria.
Other beauty tools, like an eyelash curler or a pair of tweezers, are often also among a make-up artist's supplies. An eyelash curler can lift the eyelashes, making them look longer and thicker after mascara is applied, and tweezers can easily remove stray eyebrow hairs. Other useful tools include makeup sponges, which can be used to blend makeup, or remove it.
Some makeup artists like to airbrush makeup, such as foundation, onto a client's face for a smoother finish. This type of makeup application requires professional supplies like an airbrushing machine and a high-quality liquid foundation. These makeup artist supplies can often be ordered or purchased from a beauty supply company.
A makeup case is necessary to hold all of the supplies needed for a makeup artist to do her job. Such a case can be hard-sided, like a small suitcase, or a simple canvas bag can be used. Brushes are often kept in a specially-designed pouch that keeps them clean and organized between uses. While on the job, a makeup artist may even use a tool belt or pocketed apron to keep the necessary makeup artist supplies close at hand.
AS FEATURED ON:
AS FEATURED ON:







By: adisa

Various types of makeup.

By: ctvvelve

A makeup artist needs eye shadows and brushes.

By: Dmitry Fischer

A makeup artist is knowledgeable about various cosmetic products, trends, and techniques.

By: Tomislav Forgo

Makeup artists need cosmetics like mascara for their jobs.

By: katalinks

Eyelash curlers can help lift the eyelashes.

By: sirikorn_t

A makeup artist will need a variety of makeup brushes.

By: xalanx

A good makeup artist will have an array of professional-grade cosmetics.

By: Photographee.eu

Straight tip and slanted tweezers are often used for cosmetic hair removal to shape the eyebrows.

By: Serhiy Kobyakov

Eyebrow pencils in different shades are an important part of the makeup artist toolkit.

By: Africa Studio

Eyeshadow, eyeliner, and eyebrow powders are all essential parts to a makeup artist's supplies.

By: Andriy Petrenko

A brush may used to apply eyebrow shaping gel in a smooth sweeping motion onto the eyebrow to create the desired shape.