What are the Different Types of Nail Art Accessories?
Many people enjoy expressing their personalities and individuality through their fashion and style choices. Some people do this by making permanent or semi-permanent choices, such as tattoos or piercings, but others do it by adding an artistic touch to their hair and nails. Nail art is a form of this type of trend, and there are many types of it. The most common types of nail art accessories are nail polish, drawings, decals and stickers, nail jewels, nail charms and three-dimensional (3D) nail art.
Nail polish is the one of the most traditional nail art accessories. Both males and females can add color to their fingernails in a wide variety of shades and color combinations. Conventional colors include reds, pinks and French or American-style manicure colors. Gothic style nails typically feature dark purple or black nail polish. Other choices include fluorescent shades, blues, glittery shades and even metallic colors.
People who are looking to take their nail art accessories to the next level often add drawings to their polished nails. There are many choices that include both freehand drawings and stenciled drawings. Many people incorporate drawings such as starbursts, flowers or birds. Others display their holiday spirit on their nails with drawings such as patriotic flags, holly leaves and berries, pumpkins or hearts. If a person doesn't have the artistic talent or time to do the drawings himself or herself, he or she can buy pre-painted nail tips with drawings.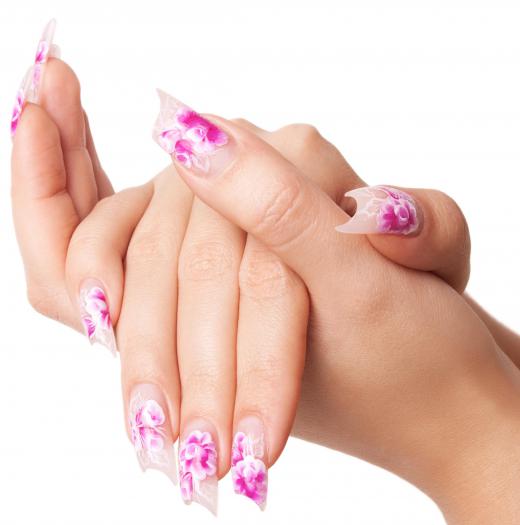 Teenagers and younger nail art enthusiasts often place decals and stickers on their nails. These types of nail art accessories are often inexpensive and do not require any type of painting. They can be applied and removed very quickly, which adds to their appeal. Some people buy specific nail stickers, and others simply paste tiny, regular stickers to their nails.
Nail jewels are found at manicure shops and beauty stores. Many of these nail art accessories are simply rhinestones that stick to the nail quickly. They are often worn by women going to formal events or people who just want to add a touch of sparkle to their nails. The nail jewels can be worn with one on each nail or in a jeweled pattern made up of several stones.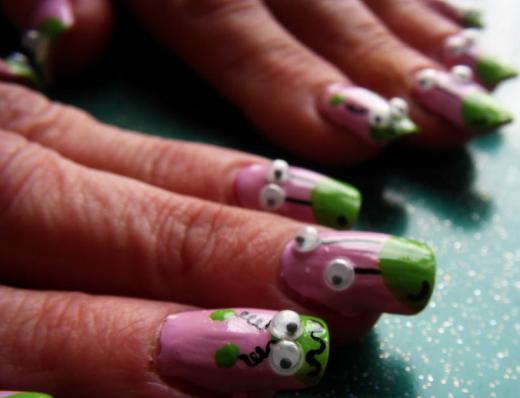 Charms for fingernails are usually metal jewelry pieces added to the tips of nails. They resemble a hoop earring or charm necklace, and they hang off the tip of the nail. These nail art accessories are also referred to as nail dangles. They come in a wide variety of patterns, such as small crosses, flowers, shoes, butterflies and hearts.
Some people add 3D nail art to their fingernails. These types of accessories can be in acrylic, sticker or mold form. The mold tray resembles a tiny ice tray into which gel is poured. The 3D accessories are applied on top of the nail. The designs rise above the nail surface.
AS FEATURED ON:
AS FEATURED ON:







Artificial fingernails with nail art.

By: a1ex76

A woman with decorated false nails.

By: travis manley

A bottle of nail polish remover.

By: Neil Milne

Some people may choose to add 3D nail art to their fingernails for decorative purposes.

By: larisabozhikova

Nail polish is the most popular type of nail art accessory.

By: Valua Vitaly

Stencils are useful for painting French manicures.

By: Coprid

The fingernails should be thoroughly cleaned with a fingernail brush before nail art is applied.