What are the Different Types of Nail Art Designs?
There are three methods often used for placing nail art designs on the nails. These include nail art stickers, freehand drawing using nail polish, or airbrushing using an airbrush and a stencil. Using these three different methods, it is possible to place virtually any type of design imaginable on the nails; many people choose to place a small jewel sticker on the nails, while others will choose designs such as flowers or seasonal images.
Nail stickers, also referred to as nail decals, are some of the simplest nail art designs to use. These are sold in packages with a number of small stickers, and they may be placed on bare or polished nails. Typically, the stickers will adhere better to polished nails. They come in all different designs, and can often be more detailed than other types of nail art; for instance, many people like holiday designs such as snowflakes or pumpkins. Stickers can be used by people of all ages because they are easy to apply on both hands.
Nail art designs painted freehand using nail polish in a bottle or a nail polish pen can look very nice as well. Different nail polish colors may be used within the same design, and a talented nail technician may be able to create a number of different designs. Flowers are quite popular, as well as simple designs such as hearts. This may be difficult for one to do without help, because it can be challenging to use the non-dominant hand to paint a small design on the nails. Keep in mind that designs can be painted on the toenails too, however.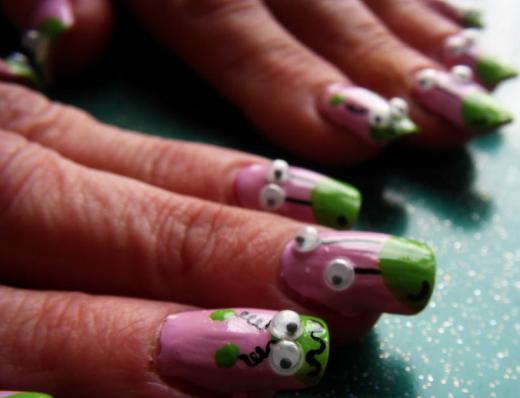 In addition, airbrushing is another method for getting nail art designs on the nails. This is usually done by a nail technician, and a small stencil is placed over the nail and the airbrush is used to paint on the design. Different colors may be used in an airbrush machine, but white is quite common. Airbrushing is most common on gel or acrylic nails, but it may be used on natural nails as well.
Once any of these nail art designs are applied to the nails, it is often a good idea to paint a clear coat of nail polish on top. This clear coat helps to prevent the design from chipping or falling off. In addition, it may be touched up throughout the week to add shine to the nails, and to make it look as if they were just manicured.
AS FEATURED ON:
AS FEATURED ON:







Artificial fingernails with nail art.

By: Neil Milne

Some people may choose to add 3D nail art to their fingernails for decorative purposes.

By: sakura

Nail art kits may include nail art jewelry, like rhinestones.

By: dusk

A coat of clear nail polish should be applied on top of many nail art designs.

By: Photographee.eu

Nail art designs should be applied to nails that have been cleaned and prepped.