What Are the Different Types of Natural Bath Products?
There are different reasons for choosing natural bath products, such as the desire to reduce chemical exposure or to help the environment and reduce the accumulation of waste products. Natural bath products such as paraben-free and organic bath soaps and shampoos, as well as vegan and chemical-free lotions and face soaps, are all popular items. Other natural bath items, like natural sponges and recycled wash cloths and towels, are sold in many natural health food and bath stores. Some individuals make their own bath products, such as soap, shampoo and toothpaste, with natural ingredients like goat milk, essential oils and herbal extracts.
The most popular forms of natural bath products that are often sold at supermarkets and health stores are shampoo and soap, and are made without the use of chemical preservatives and additives. Parabens are chemical additives used for preservation, yet are commonly replaced by natural preservatives in holistic and natural soap and shampoo products. Some bath products made with natural ingredients may be certified organic by an organic certification company, ensuring that all ingredients are naturally derived. If a natural bath product is not labeled with organic certification, chemical and artificial ingredients may exist within the product, as it is not as heavily regulated.
Face soaps and body moisturizers are common natural bath products, made from simple ingredients derived from vegetable and animal products. Many natural products may also be labeled as vegan, meaning no animal products or derivatives were used in the production of the bath product. Vegan bath products are not always natural, so reading the ingredients list of any product is ideal if it is important to use a product without chemical additives. It isn't uncommon to find natural bath products, like face or hand soap, with the label demonstrating that the ingredients were grown in a pesticide-free environment.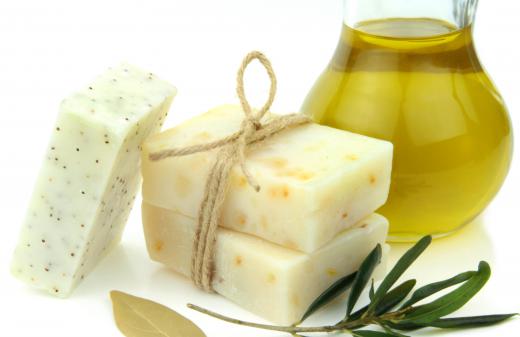 Recycled bath towels and wash cloths can be obtained through some natural retailers, and natural sponges that have not been processed or bleached can also be purchased at many health food stores. Homemade bath products are somewhat easy to make if an individual has access to the basic ingredients and wants to take the time to make unprocessed bath items. Many common natural bath products that can be made at home include moisturizers, which usually contain cacao butter or coconut oil, as well as body and face soap. Face and body soap can be made from goat or coconut milk, as well as various herbal extracts to increase nutrient quality and aroma.
AS FEATURED ON:
AS FEATURED ON:







By: Africa Studio

Natural sponges can be purchased at many healthy food stores.

By: Hayati Kayhan

Handmade soap is a natural bath product.

By: CandyBox Images

Facial soap and other skin care products may be labeled as organic if all ingredients meet certain criteria.