What Are the Different Types of Purses?
There are many different types of purses, including clutches, totes, and hobos. Satchels are also another type of purse, one that is usually larger than most other purses. In addition, some purses cannot be so narrowly defined but can fit in a broader category, such as crossbody and shoulder bags. All types of bags can be purchased in a designer label.
Clutches are small, rectangular purses that are usually designed to be held in the hand. Sometimes a clutch purse will have a chain handle that can be wrapped around the clutch to stow away. This kind of purse does not hold much and is often seen on celebrities at award and ceremony shows.
Totes are reasonably tall purses meant to be carried by hand rather than on the shoulder. This kind of purse often has a sleek exterior appearance with few outer pockets. Some totes are quite large and capable of carrying a laptop, miniature hairstyling tools, and identification. When first invented, tote bags rarely had inner pockets and did not have zipper closures. As carrying mobile phones and other small but expensive gadgets become popular, the tote bag evolved into a more secure and organized bag.
Hobo bags are defined by their crescent shape and slouchy appearance. Unlike clutches, hobos are usually large with sturdy handles. Sometimes hobo bags are designed to be worn on one shoulder rather than held. The bag gets its name from the stereotypical cartoon hobo who carries a bundle with a stick.
Satchels resemble a duffel bag. They are cylindrical in shape and may have a crossbody shoulder strap in addition to the standard handles. While size varies, satchels can be large enough to fit full-size hairstyling tools or multiple large laptops.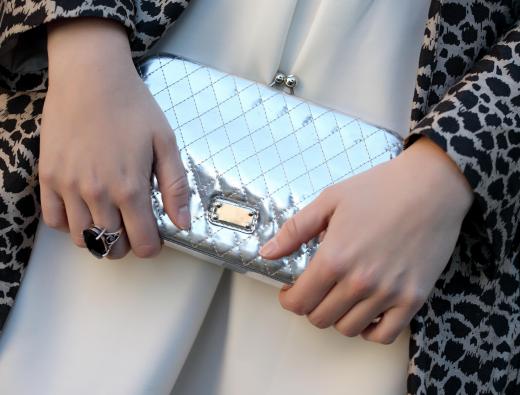 Some purses can only be described as having crossbody or shoulder straps. Their appearance is varied and does fit that of a typical handbag. In fact, some bags more closely resemble a backpack than a purse. Crossbody straps go across the body and between the breasts, while shoulder straps are hung from one shoulder.
When a prestigious fashion designer creates a product line, that line is considered designer and is usually sold for much more than the average product in similar lines. The same is true for purses, and all types of purses are available in designer labels. These bags can be very expensiv, and are often made from real leather, fur, or other natural but limited resources.
AS FEATURED ON:
AS FEATURED ON:







By: claireliz

A faux fur purse.

By: Loraliu

Clutch purses are designed to be carried by hand, some have a detachable chain or leather strap so they can also be worn hanging from the shoulder.

By: andreaxt

A metallic clutch purse can make a stunning complement for an outfit.

By: LoloStock

Many women prefer purses that are made of leather.

By: visoook

Designer purses may come in a variety of colors, patterns and styles.

By: Photographica

Clutches are typically used as evening purses.