What are the Different Types of Slippers?
Slippers are normally thought of as footwear people use while relaxing in the home. Men, women and children enjoy sliding on a pair after the day's activities are done. Nothing quite conjures up the height of "creature comfort" as the thought of a pair of comfy slippers. There are many different types, and fabric, pattern, and colors vary greatly. The soles can be hard or soft.
Popular styles of slippers for men include suede moccasins, leather loafers, corduroy slip-ons, and fleece-lined, such as the extremely popular Sherpa boot variety. Women's styles include sexy high-heeled mules, terrycloth scuffs, stretchy ballet, Plain Jane sock-styles, homemade knitted or crocheted anklets, and cloth booties. For children, different types range from the practical to the fanciful and can include animal-shapes, oversized slippers, fuzzy ones, and even ones with cuffs, which may stay on better and make them harder to lose.
Today, the different types can also include what people might consider casual outdoor shoes. Some examples are flip flops, thongs, and sandals. These shoes can easily go from the bedroom to the backyard or beach, and back again.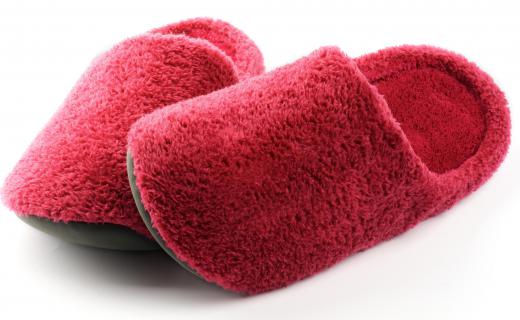 Far Eastern cultures have social customs regarding the appropriate use of different types of slippers, which are far more stringent than that of Western cultures. In Asia, for example, it is customary for people to remove their street shoes before entering a home. Here, hosts provide slippers for their quests. In Japan, people slide out of their house slippers and into tissue slippers to use bathroom facilities.
There are so many different types of slippers that, whatever a person chooses, he or she is likely to find the perfect pair. They are sold in department stores, shoe stores, discount stores, and inexpensive ones are even sold in grocery stores.
AS FEATURED ON:
AS FEATURED ON:







By: zhekos

Slippers may be worn to provide warmth and comfort to the feet.

By: mettus

Sandals are a popular type of slipper worn during the summer.

By: Kitch Bain

Slippers for men may be made of corduroy fabric.

By: nadyatess

In the colder months, slipper socks can help keep both feet and ankles warm.