What Are the Different Types of Twist Updos?
There are many different types of twist updos. Most can be accomplished with medium length to long hair, although some can work even with chin length hair. Twist updos represent a number of classic hairstyles and have been used for many decades to create elegant, timeless looks.
The classic twist updo is the French twist. Starting with a low ponytail, the hair is twisted while pulling up at a slight angle. It is twisted until it forms an upright roll after which the tail of the hair is tucked into the side of the twist and secured with pins or a comb.
Another classic in twist updos is the chignon. This low bun hair style is created by pulling the hair into a low ponytail and twisting the hair around itself. The resulting knot is secured with pins or an elastic band.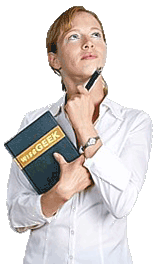 Although not technically a chignon, the topknot or ballerina bun is formed in a similar way. One important difference is that the base is a high ponytail, not a low ponytail. Twisting and wrapping the hair forms a knot on the top of the head, which can be held in place with pins or an elastic band.
Twist updos can also use the French twist braid, or rope braid, to create a variety of looks. To make a French twist braid, hair is wrapped and twisted by sections to form a twisted tail. The result is that the twist follows the contour of the head, since it is wrapped with individual pieces of hair instead of full locks. It has the same sectioned look as a French braid, but with the smooth texture of the twists.
A French braid twist can easily be turned into an updo by tucking the tail under the hair at the nape of the neck and securing with pins. It is also possible to twist the hair into a low or high bun or to create an upside down French twist braid by twisting from the nape of the neck. French twist braids can also be used to form a crown or single row in an updo for visual interest.
Some twist updos use only part of the hair. Is this case, the top layer of the hair is sectioned off and divided. The two tails are twisted until they meet in the middle back and secured with an elastic band, pins, or barrette. An alternative is the half bun, which uses the top layer of the hair to form a bun at the crown of the head.
AS FEATURED ON:
AS FEATURED ON:







Woman holding a book