What Are the Pros and Cons of Silk Long Underwear?
Silk long underwear can be durable and comfortable. It is lightweight and skin-friendly and offers several advantages over cotton, synthetics or wool. For people who need more warmth or who are on a budget, other types of thermal underwear might be better choices, however, because silk long underwear is not as warm as some other types and can be more expensive.
When selecting long underwear, the buyer should consider the activities for which he or she expects to use the garments. People who live in colder climates might wear long underwear for warmth throughout the day. These undergarments can increase comfort for both office and outdoor workers.
People who participate in outdoors activities should also consider the advantages and disadvantages of the various types of thermal underwear. After evaluating options, they can select the products that best suits their needs. Of these products, silk long underwear is a popular option.
Silk long underwear is thin, lightweight and easy to pack. It can easily be worn under street clothes or under several other layers, for those who are going to be outside in cold weather. Silk fabric wicks moisture, helping the wearer feel comfortable when he or she is active. Cultured silk has long fibers, which usually results in a long-lasting garment.
Choosing underwear made of silk might be especially helpful for people who have sensitive skin. Silk can be less allergenic then other types of underwear. This natural product's amino acids might even be helpful for smoothing skin.
Though silk has many advantages, in some situations, other types of thermal long underwear might be better choices. Natural fibers are frequently more expensive than synthetics, so silk thermal underwear might not be affordable for everyone. Although it retains warmth when wet better than cotton, wool long underwear will retain warmth better than silk, so if the environment is expected to be cold and wet, wool long underwear might be a better choice.
The buyer can also consider the care the undergarments need. Silk underwear might require hand-washing and air-drying, though some types can be laundered in a washing machine. This type of long underwear does not dry as fast as synthetic types, so that is something to consider if a fast drying time is essential. A buyer should carefully read the care label for instructions and determine whether the care requirements are suitable for his or her situation.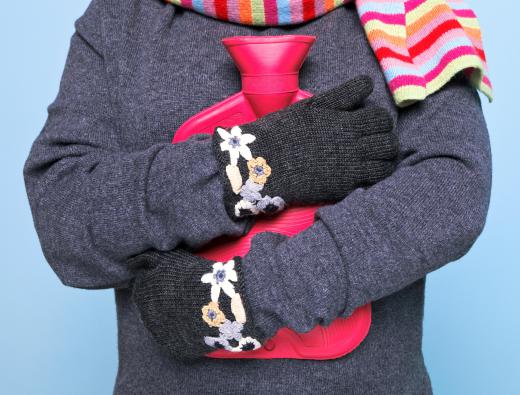 If the buyer needs underwear for a trip, he or she might want to consider how frequently he or she will be able to launder them. Silk doesn't absorb odors as readily as synthetics, but it usually is recommended to wash the silk long underwear after each use. In the case of wool, the underwear can be worn several times between washings, if necessary.
AS FEATURED ON:
AS FEATURED ON:







By: felinda

Silk fabric.

By: phiseksit

Silk cocoons, which can be used to make fabric.

By: LoloStock

Silk long underwear may require hand-washing and air-drying.

By: RTimages

During chilly weather, silk long underwear is thin enough to fit under several additional layers of clothing.