What are the Pros and Cons of Topical Salicylic Acid?
Topical salicylic acid may be beneficial because it can effectively treat problems including acne, dandruff, and warts. Some people also use salicylic acid on calluses. Even though the product is helpful for many people, there are certain risks associated with its use. These risks include allergic reactions, moderate to severe skin irritation, and excessively dry skin on the areas where it was applied. The application of the product is also uncomfortable for some because it occasionally causes a stinging sensation, although not everyone experiences this.
Many types of topical salicylic acid are available over the counter without a prescription, but stronger doses may be acquired through a prescription. There are several different varieties of salicylic acid in topical form, including ointments, creams, and medicated pads. The acid is produced under many different brand names, and most drug stores carry several products containing it. All forms of topical salicylic acid, including the over-the-counter variety, should be used with caution on children, elderly people, and pregnant or breastfeeding women. The acid should not be used at all on children who are less than the age of two, and a doctor's advice should typically be sought before it is used on any young children.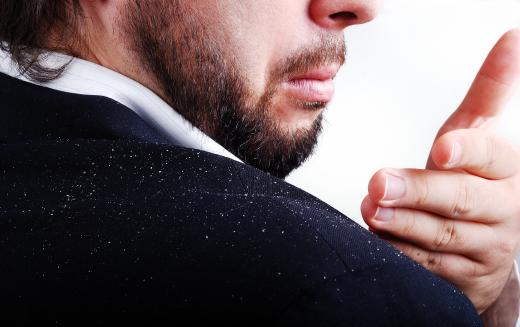 Salicylic acid tends to be very useful for acne because it can eliminate dead skin cells that block off pores, which leads to the formation of blackheads. People with acne normally have to use topical salicylic acid continuously because, once they stop, the acne tends to return. The acid may also eliminate dandruff by helping get rid of flaky, scaly skin on the scalp, and it is an ingredient commonly found in many dandruff shampoos. There are additionally adhesive pads available containing topical salicylic acid designed to cover warts for several days. The acid can kill the skin cells within the wart, making it much easier to slough off the dead skin cells after roughly one to two weeks.
Even though salicylic acid is generally considered safe for the majority of people, there are some people who are not able to use it. Allergic reactions to salicylic acid are not uncommon, and these reactions may manifest in the form of severe skin inflammation and irritation. Some people normally experience mild skin irritation with salicylic acid when they initially start using it, but this often dissipates the longer the product is used. If the irritation does not improve over time and gets worse with each use, a person may safely assume the product is not compatible with his skin and should likely stop using the acid.
AS FEATURED ON:
AS FEATURED ON:







By: Jasmin Merdan

Salicylic acid may be used to treat dandruff.

By: soupstock

Topical salicylic acid may be used to treat acne.

By: Coprid

Salicylic acid comes in several forms, including topical ointments.

By: Ocskay Bence

Topical salicylic acid can cause severe skin irritation.

By: Tiler84

Topical salicylic acid can be used to treat warts.