Twist braids are a combination of a French braid and twisting two pieces of hair. This hairdo is considered a braid because it involves multiple pieces of hair woven together to create a design. These braids work best on medium to long hair, and can be dressed up with fancy clips and elastics. There are also variations as to how the hair can be twisted, which makes this a versatile hair style.
Any hair texture can be styled into twist braids, and they can be done on natural or synthetic hair. Some people find it easier to twist wet or damp hair, but this is not recommended for synthetic hair. There are many variations to the twist braid hairstyle.
One example of twist braids is for the hair dresser to hold hair from the sides and top of the head and separate it into two pieces. The hairdresser then will cross one section of hair over the other, forming a twist. If the person is looking for a French braid effect, the hairstylist will take a small amount of loose hair from each side of the head and add to the original two twisted sections and complete another twist. She will alternate twisting the hair and adding new pieces until all the hair is incorporated into the two twisted sections.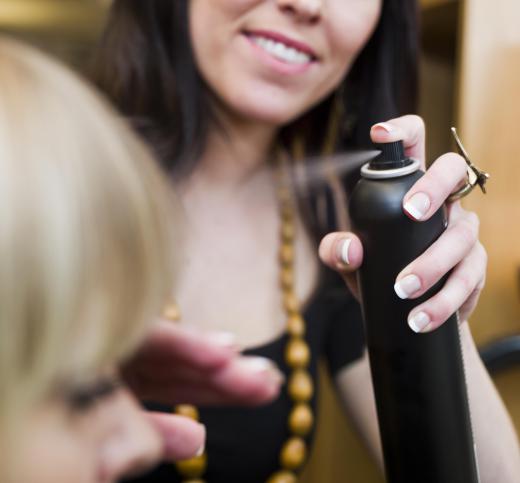 In this style, the hairdresser will continue twisting down to the end and secure the hair with a decorative elastic or clip. Finishing the style with hairspray will help hold the hairstyle in place and prevent fly-a-ways. It will also keep the twist braid looking fresher, and it will last longer.
A variation on this style is to only add additional hair on one side of the head, which will give it more of a French twist type of look. Formal looking pins, barrettes, and elastics can be used to enhance the style for a more dressy occasion.
Hair can also be twisted without having the French braid look. The hairstylist can hold two sections of hair in any place on the head and twist them to the end. Several twist braids can be placed around the hairline, and then a ponytail added in the back. Small twists can be created that hang down and line the face.
Funky colors can be added to the hair before twisting to create a fun look. Colored hair cement can add temporary color and optimum hold. Beads and ribbons can be added too.
Once the twist braids are removed, hair will be wavy and can produce a new look. Twisting wet hair, letting it dry, and then unraveling the twists is a great way to get wavy hair without spending lots of time with crimpers, curlers, or curling irons. This is a hair healthy way to get waves, volume, and add texture to hair.
AS FEATURED ON:
AS FEATURED ON:







By: Grigoriy Lukyanov

Twist braids work best on medium to long hair.

By: gemenacom

Twist braids should be set using hairspray to keep the hairstyle in place.

By: terex

Any hair texture can be styled into twist braids, and they can be done on natural or synthetic hair.