Vintage shoes refer to various footwear styles that were commonly worn decades ago. Also referred to as retro shoes, these classic styles are often reproduced in mass quantity. Most vintage shoes are inspired by styles that were made popular during the 1940s through the 1970s. Retro style canvas sneakers and penny loafers are a couple examples of vintage shoes. Many people enjoy wearing classic shoe styles to recreate a look from a bygone era.
Women's wedgie-style shoes were made popular during the 1940s. The wedgie is a type of platform shoe with a thick, chunky appearance. The wedge of this shoe is considerably thicker than the platform. Wedgie style vintage shoes are typically made of suede or leather. Wedge toeless sandals are another type of retro style shoes for women.
Women's ankle-strap stiletto heels are reminiscent of styles often worn by Hollywood celebrities during the 1950s. High-heeled elevated platform shoes were popular during the 1940s. These vintage shoes are often reproduced in various colors and sold at specialty shoe stores. The high-heeled elevator platforms are typically made of full-grain leather.
Various reproductions of oxford shoes are other styles of vintage footwear. Classic saddle shoes were a very popular oxford style from the 1950s. Saddle shoes are commonly reproduced and sold in retro shops. The saddle shoe is designed in white leather, with a black leather panel in the middle. These two-tone vintage shoes are primarily worn by women and girls, although there are styles for men and boys.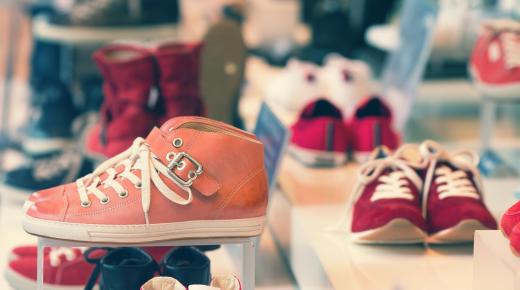 Vintage shoes for men include the popular leather wing-tip style. Wing-tip shoes typically have a pointed toe, and the body of the shoe widens toward the middle. The name originates from the appearance, which resembles the unfurled wings of a bird. Many styles of wingtip shoes are also embellished with small holes.
Men's moccasin bucks are another type of retro shoes. Buck shoes may be made of white, brown, or black leather, as well as two-tone. These sporty retro style shoes are worn for casual or semi-casual wear.
Penny loafers from the 1950s are often reproduced and sold as vintage shoes. Loafers are casual shoes worn by men, women, and children. These classic leather shoes may be found in various colors, with brown and black being most popular. The classic slip-on penny loafers are made with a soft leather sole. Penny loafers are designed with an opening for inserting a penny or other small coin.
AS FEATURED ON:
AS FEATURED ON:







By: Meffista

Vintage high heeled shoes.

By: MaxRiesgo

Loafers are casual shoes worn by men.

By: Nomad_Soul

Retro shoes are often more popular now than they were decades ago, when they originated.