What Face Shapes Work Best with a Caesar Haircut?
The Caesar haircut is a men's hairstyle featuring relatively short hair on the sides with longer bangs in front. Caesar styles work best for men with oval faces and very high foreheads or small facial features. They're also popular with men who suffer from a receding hairline. The style's name comes from Julius Caesar, a famous Roman dictator, though this cut has been popular off and on for much of history.
Caesar hairstyles feature relatively short hair all over the head, except for the bangs. The sides, top, and back of the hair are trimmed to a length between 1 and 3 inches (2.5 to 7.5 cm). The hair at the front is shaped into straight bangs anywhere from mid-forehead to eyebrow-length. The ends of these bangs may be feathered slightly, but the overall shape is rectangular, blending into the short hair on the sides.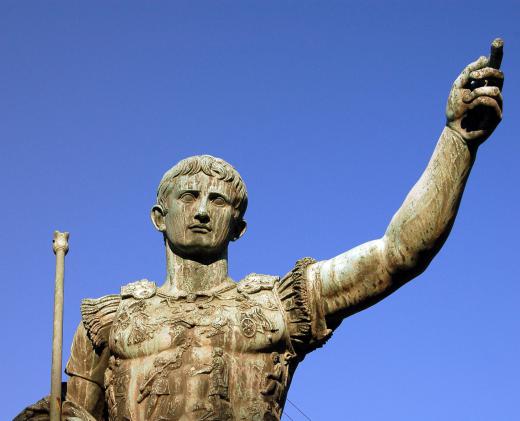 This style suits a number of face shapes, but does particularly well for men with oval faces and small features. A slightly messy Caesar haircut covers the forehead, drawing attention to the mouth, nose, and eyes, especially when combined with glasses. Men with average facial proportions but a large forehead can also benefit from wearing a Caesar hairstyle. People with large features or a small forehead should avoid any haircut with bangs, since they can make the face look crowded.
The Caesar hairstyle also flatters men who suffer from male pattern baldness, particularly hair receding at the temples. This style's long bangs allow for more coverage over bald or thinning areas, without the awkward look of a comb-over. The Caesar haircut doesn't flatter men who have begun to lose hair at the crown, however. The relatively short length over most of the head draws attention to thin hair on the top and sides, and can produce an unattractive look.
This hairstyle appears on a number of ancient Roman statues, notably those of Julius Caesar, but he isn't the only person to wear it. This Roman emperor suffered from thinning hair, which the Caesar haircut disguises, possibly contributing to its name. This relatively simple style reappears throughout history, and was most recently popular in the mid- and late-20th century. The Caesar hairstyle was fashionable on men in the Mod subculture during the 1960s, then went back out of style until the early 1990s.
AS FEATURED ON:
AS FEATURED ON:







By: faberfoto

Caesar hairstyles work best for men with oval faces and high foreheads.

By: diego cervo

Caesar haircuts usually work for men with receding hairlines.

By: sparkmom

A receding hairline may begin as a thinning of hair on either side of the forehead.