A back facial is a skin treatment which is formulated specifically for the back. Some spas refer to a back facial as a "bacial." Back facials utilize many of the techniques used in skin treatments for the face, and they are supposed to clarify and soften the skin of the back while providing a deep moisturizing treatment which will leave the client with a healthy, glowing back. Back facials for both men and women are available, in a wide range of formulations which target specific skin types or issues such as clogged pores and acne on the back.
People often have trouble maintaining a skin care regimen for their backs since the back is notoriously hard to reach. With the assistance of back scrubbing shower tools, most people can keep their backs clean, reducing clogged pores and other skin problems, but it can be hard to moisturize the back or to treat dry skin and other irritating and sometimes unsightly conditions. While a back facial might sound slightly silly, this spa treatment can actually be quite beneficial, especially for people who spend a lot of time in low-backed clothing or swimsuits.
Typically, a back facial starts with a deep steaming which is designed to open the pores and soften the skin. An aesthetician may use various treatments such as an exfoliating scrub to remove dead skin from the back, and he or she may also perform extractions on clogged pores. After steaming and exfoliation, the back can be covered in a rich moisturizing mask, and some aestheticians also offer massage to release tension in the back.
Skin treatments such as glycolic peels and dermabrasion are also available for the back, depending on your skin type and any skin issues which you may be experiencing. Spa staff are usually happy to recommend various treatments for you, and they should also be able to inform you about ingredients used in back facial treatments. You should also disclose any allergies to the spa staff, as peculiar ingredients can pop up in skincare treatments.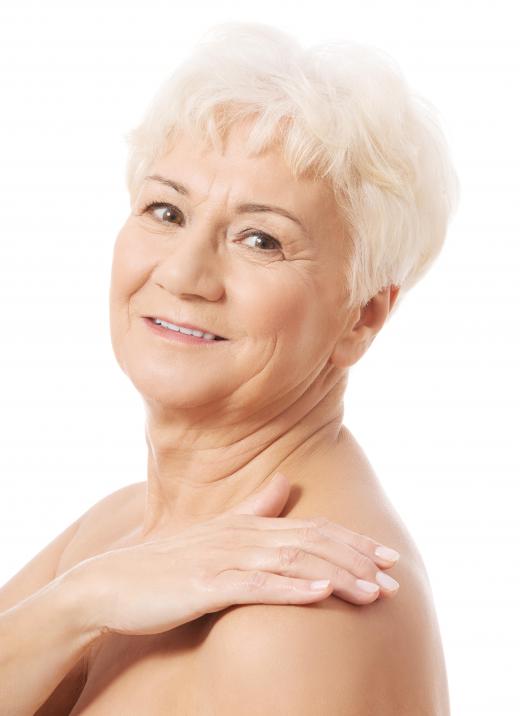 Back facials are not recommended for pregnant women, since clients must lie on their stomachs to receive a back facial. The duration of a back facial can vary widely, depending on which treatments you select and the spa; if timing is an issue, be sure to inform spa staff when you book. As with any sort of spa appointment, it is a good idea to arrive early so that you have plenty of time to fill out paperwork, change into a spa robe, and relax for your appointment.
AS FEATURED ON:
AS FEATURED ON:







By: AustralisPhotography

Some people get back facials as a way to treat back acne.

By: Africa Studio

It can be difficult for a person to apply lotion to her own back.

By: Piotr Marcinski

Receiving a back facial typically leaves the client with a healthy, glowing back.

By: Gabriel Blaj

Pregnant women may have difficulty receiving a back facial because they must remain on their side instead of resting on their stomach.

By: Photographee.eu

Many of the same treatments use on the face, including dermabrasion an chemical peels, may be applied to the back.