What Is a Balancing Shampoo?
Balancing shampoo is a type of hair cleansing product designed to balance moisture levels in the hair and scalp. Sometimes, hair can become imbalanced when the scalp becomes oily and greasy, but the rest of the hair is dry. In addition, sometimes a dry, flaking scalp and dry hair can also mean that hair is imbalanced. This shampoo gently cleanses to treat these hair issues.
Through effective cleansers and gentle moisturizing ingredients, balancing shampoo is able to restore moisture to dry areas while healing the scalp and preventing it from becoming oily. This type of shampoo works especially well on longer hair that may have some split ends, or on hair that has been treated with chemicals or colored. It is meant to create soft, manageable hair, and often includes ingredients such as proteins, vitamins, and softening ingredients such as shea butter or aloe.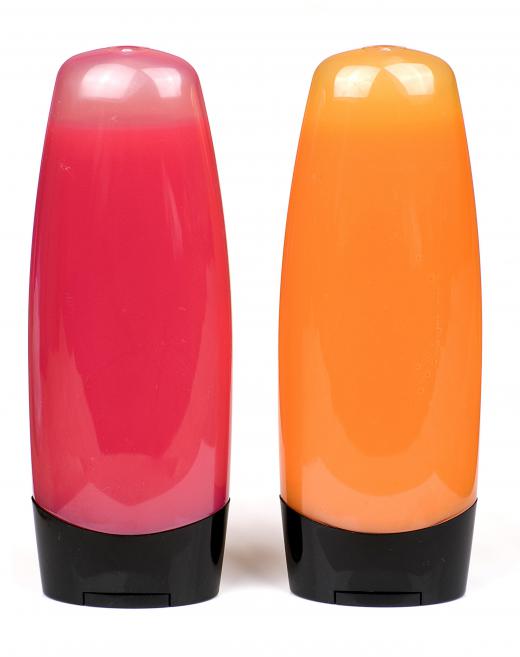 Some balancing shampoos are sold with specific needs in mind. For example, some shampoos are specially designed to treat dandruff, while others may be designed to protect color treated hair. In general, however, the shampoo is good for almost all hair types, because it can deliver moisture where it is needed, and remove oil.
Balancing shampoo is meant to be used every day, but those with especially dry hair may only need to use shampoo a few times a week, simply rinsing the hair and applying conditioner on the off days. Many shampoos have conditioners that are designed to be paired with them; this will give hair the most potential benefits. Keep in mind that to keep hair healthy, it is necessary to not just use a good quality shampoo and conditioner, but also to get regular trims, avoid brushing the hair while wet to prevent breakage, and protect hair from heated styling products with styling creams. It may also be necessary to use a clarifying shampoo every few weeks to remove any buildup from chemical products.
There are many different types of balancing shampoo available for purchase at drugstores or salons. In general, salon brands will cost more, but they may also use higher-quality ingredients. Balancing shampoo often contains a pleasant scent, but fragrance-free versions may be available for those who are sensitive. This shampoo may not work for everyone, however. People who have very dry hair may need to use an extra moisturizing shampoo, whereas people with especially oily hair may need to use a shampoo designed to treat that particular issue.
AS FEATURED ON:
AS FEATURED ON:







By: Dessie

Plastic bottles of shampoo.

By: esp2k

A balancing shampoo removes oil and delivers moisture to areas of the scalp where it is most needed.

By: roblan

Some balancing shampoos are designed to treat dandruff.

By: Laurent Hamels

Balancing shampoo can heal split ends.