A bath bomb is a solid mixture of ingredients that dissolves in the bathtub to add color, scent, and fizzing bubbles. Some common ingredients in a bath bomb include citric acid and sodium bicarbonate, or baking soda, which typically produces fizz when it comes into contact with water. Moisturizers such as cocoa butter and vitamin E oil often are added, and essential oils such as lavender, vanilla, or rose are commonly used to provide scent. Many bath bombs are round and about the size of a small ball, while others come in novelty shapes of various sizes, including hearts, seasonal snowmen, and cupcakes. Some even include flower petals or glitter that melt out of the bomb as it fizzes into the water.
Bathers have long enjoyed adding softening and aromatic ingredients to the tub. Small gel balls of oil, soap based powders, and lotion-like foams can add to the relaxing ritual of bath time. Kids and adults alike can enjoy bubble baths, and leaving the tub with softer skin can be an added benefit. Using a bath bomb may provide even more of an experience because it interacts with the water to create an effervescent tingling on contact with an individual's skin.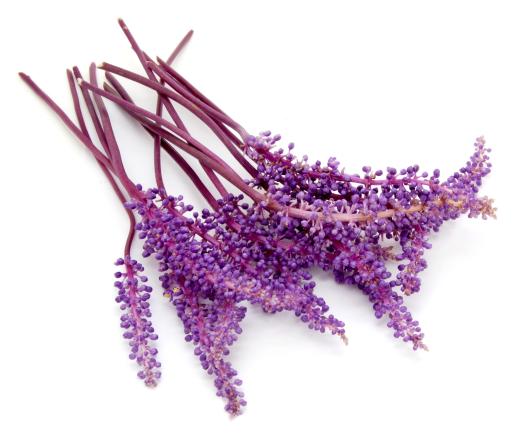 Many bath and beauty stores in the West stock bath bombs. Online small business retailers also have helped to popularize these bombs, which may be called bath ballistics, bath balls, or bath tablets depending on the shape and maker. This once niche product also has become more widely manufactured for sale in larger pharmacies, and it can be made at home as well. While the origin of the bath bomb may not be definitively traced, bombs have become popular enough to be found from farmers markets to high-end specialty shops in one incarnation or another.
When looking to buy a bath bomb for individual use or gift giving, it generally is helpful to look at an ingredient list rather than just at the bomb itself. Some bombs appear pale, chalky, and unappealing in color though they may transform entirely in water. A pale acid green blob for example may be composed of aloe, lemon, and chamomile to soothe and moisturize, and a muddy purple faux egg may dissolve into softening clay bubbles with unfolding violet scents. Many bath bombs come wrapped in plain wax paper or cellophane, though others may be cleverly packaged as baked goods or nestled in decorative boxes.
Using a bath bomb can be as simple as tossing the solid ball into the bath water. Some varieties, however, are large enough to be broken into pieces for use in several baths. Others work well when dissolved beneath running water as it flows into the tub. Bombs may come with small cautions, however: A dark bath bomb may produce some temporary staining of the bathtub itself, and some of the more moisturizing bombs can leave a slippery residue, so after-bath rinsing often is advisable.
AS FEATURED ON:
AS FEATURED ON:







By: Kimberly Reinick

Lavender is a popular addition to bath products due to its pleasant, relaxing scent.

By: olly

A bath bomb may make for a more relaxing soak.

By: mady70

Baking soda may be used to create fizz in a bath bomb.

By: Kasia Biel

A bath bomb, also known as a bath fizzie, is a popular way to add color, scent and bubbles to a bath.

By: Rido

Soft skin can be an added bonus of using bath bombs.