Many people know that a face mask is a great way to cleanse, firm, and invigorate the skin. However, it is possible to experience these skin benefits not just on the face but all over the body. A body mask is effectively the same as a face mask except it covers a much larger portion of the body. The key difference is that a body mask may be formulated in order to offer benefits that target issues that related to the body as a whole instead of the face in particular.
Depending on the ingredients in a body mask, it can offer a number of different skin benefits. Body masks are sometimes made with caffeine, for example, which is intended to promote circulation and reduce the appearance of cellulite. Some of them include ingredients that are meant to target stretch marks. While these are not the key uses of face masks, these are often important qualities in body masks.
If you choose to purchase a body mask and use it at home, remember to avoid irritated skin and any wounds that are still in the healing process. Take a hot shower or bath prior to applying the body mask so that your skin is cleansed and soft. This will also help to open the pores, allowing the mask to sink as deeply as possible into the skin. It is generally advised to use only a thin layer of the mask, but be sure to follow the instructions on the package.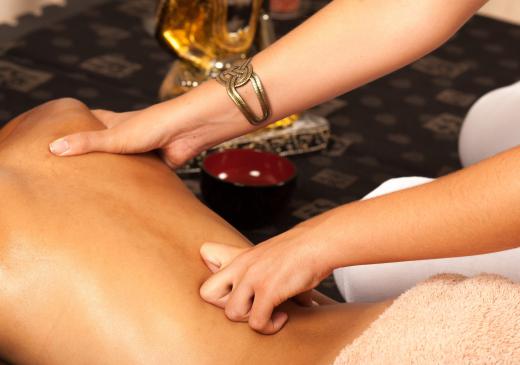 Because it can be difficult, if not impossible, to treat the entire body on one's own, many people choose to go to spas for body masks where trained estheticians apply body masks for clients. Most spas that offer body masks on their treatment menu offer a number of different kinds which target a range of specific skin issues. While most masks will cleanse the skin, some are particularly useful for moisturizing the skin while others are ideal for detoxifying the skin. There are also body masks that are intended to slim the body.
Going to a spa for a body mask is a wonderful option for those who can afford it. If you choose to go to a spa for a body mask, be sure to do your research first and make sure that you are booking your appointment at a reputable place. A quick Internet search should help you to find reviews of spas in your area.
AS FEATURED ON:
AS FEATURED ON:







By: Leo Lintang

A body mask may help reduce the appearance of stretch marks.

By: Hemeroskopion

Body masks are available to cleanse, moisturize or detoxify the skin.

By: Juri Samsonov

A hot shower should be taken prior to applying a body mask.