The burqa is a piece of clothing that covers a woman from head to foot. There is an opening for the eyes, but the rest of the body, except the hands, are covered. The garment is usually made of light cloth, and is essentially outerwear for some Muslim women in some regions. It is worn when women leave their homes, over their indoor clothes, but it's not worn indoors in the presence of family.
Most people typically associate the burqa, often blue in color, with the Taliban reign in Afghanistan. Women under the Taliban's rule were required to wear this garment, while previously, many Muslim women in Afghanistan wore western-style clothing. For some, having to don the garment again was oppressive.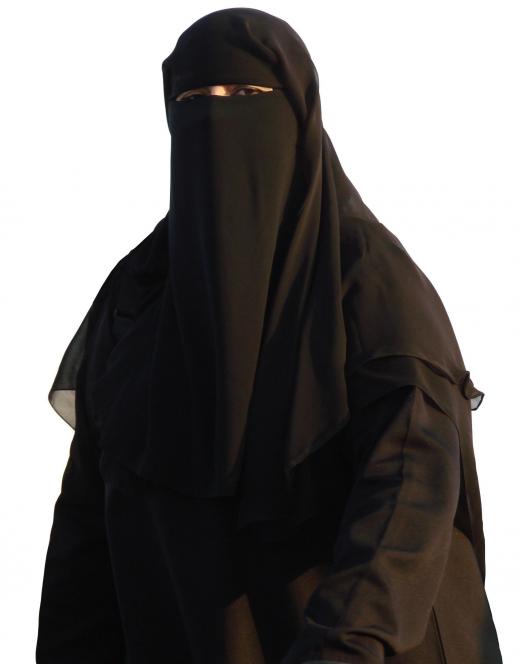 This is not to say that all Muslim women find the garment oppressive. Many women in India and Pakistan, where it's not required by law, wear one by choice. Some women in Afghanistan, prior to the Taliban, chose to wear them as well, and they were pleased by the new regulations that required them.
Even after the Taliban was replaced, many women still chose to wear this garment. In Afghanistan, continued control of certain factions in some regions has forced women who do not voluntarily wear one to don it again, even though they would choose not to wear it otherwise. Not wearing the burqa can be a threat to personal safety due to the possibility of punishment.
The principle behind the burqa is that it is clothing that maintains personal modesty. Clothing that is worn as recommended by the Qur'an is called Hijab. In certain portions of the Qur'an, Allah's words as stated by Muhammad are that women should cover their "beauties": their chests, hair, legs, and arms. These should only be viewed by husbands and family. Not all Islamic scholars feel that these passages describing Hijab mean the same thing, however.
Some Muslim women feel that the command is kept by covering the hair only by wearing a headscarf called khimar. Others may wear a headscarf and veil, called the niqab. Some wear the chador, which is very similar in construction to the burqa. Others feel that no women should have their clothing dictated to them by an oppressive "male led" government. Dressing modestly is usually a large part of following Islamic law for Hijab, however, and modest dress is imparted upon men as well.
Some countries with large Muslim immigrant populations have tried to outlaw the niqab. This has often led to protests by women, who feel that covering the body or the face is a direct commandment from Allah. The burqa is not worn much outside of Pakistan, India, and Afghanistan, but some women feel a sense of freedom wearing it that they would not have otherwise. They cite that they don't have to be concerned with personal appearance when they need to run quick errands, and they don't have to worry about being scrutinized or getting unwanted attention from men. Their personal expressions, except for in the eyes, are hidden, which can also promote better bargaining at certain shops.
AS FEATURED ON:
AS FEATURED ON:







Woman wearing a black niqab -- a different type of facial covering for Muslim women.

Afghan women sitting on the side of the road wearing blue burqas.

By: Pimkie

A woman in a burqa.

By: Darrin Henry

A woman in a khimar.

By: Egypix

A burqa follows the instruction of the Qur'an, which says a woman should cover her beauty.

By: Tupungato

Many women in India wear burqas by choice.