What Is a Cosmetics Warehouse?
The term "cosmetics warehouse" can be used to describe one of two things. It might refer to a physical warehouse where makeup manufacturers keep merchandise before shipping it to retail outlets, or it might refer to stores where consumers can buy beauty supplies at wholesale or deeply discounted prices. Discount stores often refer to themselves as warehouses because of their vast selection and large amounts of stock. Retailers who purchase and sell items in bulk are often able to reduce the end price per item.
Cosmetics warehouse stores usually are operated by third-party retailers that are unaffiliated with any particular makeup line. As such, shops usually carry a variety of products, and the inventory tends to vary. Owners usually stock their shelves with makeup on which they have received a deal. They often buy overstock directly from the manufacturer or purchase designated lots of soon-to-be-discontinued items at rock-bottom prices. These price savings then can be passed to the consumer.
Warehouse shopping can be a great way for consumers to find deals, particularly on designer cosmetics. Selections tend to vary, which means that stores might not always carry a particular item — but this is a trade-off that many shoppers are willing to accept in exchange for deep discounts. It also gives consumers a way to try out different products and become familiar with a wider line of brands.
Loyalty programs are popular at this kind of cosmetics warehouse. Stores often offer tiered discounts, which means that customers who make a certain number of purchases or spend a certain amount of money can take an additional certain number of percentage points off any listed price. This encourages customers to continue shopping at the cosmetics warehouse for all of their makeup needs, rather than purchasing their beauty supplies elsewhere.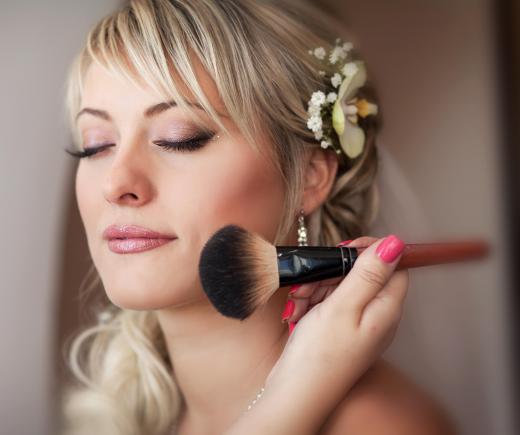 Online cosmetics warehouse sites also are popular. These sites, which are often affiliated with a certain supplier, typically advertise many types of cosmetics at warehouse prices. Many of these companies are legitimate, but a handful have been accused of peddling expired merchandise, falsely advertising cheap cosmetics as designer brands or assessing unreasonably high charges for shipping and handling. It usually is a good idea to do a bit of research into a company's legitimacy before making any purchases online, particularly for discount cosmetics.
Warehouses where manufacturers keep pre-sale merchandise are entirely different. Makeup products typically arrive at these cosmetics warehouses immediately from the factory, often packed onto shipping pallets. Most facilities have loading docks where trucks can back in, which allows for easy loading and unloading. Inventory managers and other employees receive products in the warehouse, then sort and store them for distribution to retailers throughout the region. Customers almost never have access to this process, and the storage floors are not set up for individual sales.
AS FEATURED ON:
AS FEATURED ON:







By: Monkey Business

A cosmetics warehouse may be a facility that houses makeup before being distributed.

By: Andrey Burmakin

It's important to ensure that inexpensive and discontinued cosmetics are within their sell-by date.

By: armina

Some cosmetics are sold at clearance prices because the packaging has been torn or otherwise damaged.

By: Ghost

Most cosmetics warehouses have loading docks where trucks can back in for easy loading and unloading.

By: Photographee.eu

Inventory managers and other employees in a cosmetic warehouse sort and store products for retail distribution.

By: luca fabbian

A cosmetics warehouse may contain makeup or beauty supplies at deeply discounted prices.

By: anekoho

The storage floor of traditional cosmetics warehouses are not set up for individual sales.