A cowl neck is a neckline that resembles an unstructured, floppy turtleneck and drapes below the collarbone. It is most often featured on both short sleeve and long sleeve sweaters which have been knitted from such fabrics as wool, cashmere, and angora, or synthetics such as acrylic. This design also suit certain types of formal wear such as wedding dresses, provided the fabric has the right draping qualities. The cowl neck style is said to have been inspired by early Grecian fashions, which specialized in draped garments that didn't conform to the body's contours.
Modern cowl necks are usually featured on clothing in combination with fitted sections of the garment. Even sweaters with this type of neckline that feature heavy draping in certain areas, such as wide bell-shaped sleeves, will usually also feature fitted sections such as a tapered waist in order to retain the wearer's silhouette. Cowl necklines are especially flattering to small-chested figures as the extra draping of the fabric can add volume to the bust area.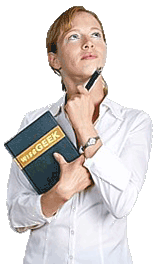 Cowl necks can be shaped in various ways that transform the overall look of the garment. For example, it can be straightened into a boat neckline or "boat neck" by pulling the fabric up over the collarbone and toward the shoulders. Some cowl necks can even be stretched over the back of the head to form a hood if there is sufficient fabric in the draping. Cowl necks are sometimes also sold as separates, along with other wraps such as shawls, capes, ponchos, and shrugs. The neck may also fold off to the side or feature zippers or buttons down the center of the garment or along the neck and shoulder.
In the new millennium, cowl necklines have become a popular feature on cable-knit tunics, particularly in gray wool and other natural fabrics. Tunics with this type of neckline have become an especially popular staple in maternity wear as the folds of fabric conceal bumps and allow ample room for growth in the stomach area.
AS FEATURED ON:
AS FEATURED ON:







Woman holding a book