What is a Detangling Comb?
A detangling comb is a beauty product used on the hair, preferably while wet from the shower, that is meant to decrease knots and tangles without damaging the hair. Most of these combs come with wide-set, often wavy teeth. Small combs with close-set, narrow teeth and a pick at the end of the handle are also referred to as detangling combs. The combs are made from a variety of materials, and some have multiple uses.
Whether one has straight, fine hair or thick, curly hair, strands can become knotted together, creating tangles during sleep, work, or in the shower. Using a brush to work out knots can break the hair off completely or cause split ends. A detangling comb is typically recommended for use on wet hair before using a brush.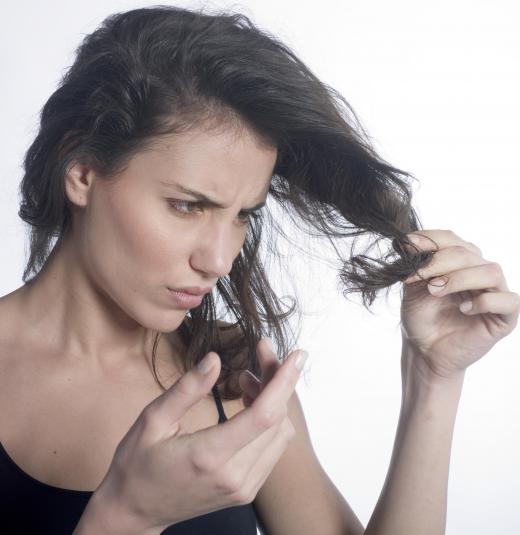 While using a detangling comb, one can take hold of the knotted section of hair above the tangle and below the scalp. Doing so should minimize stress at the root. Those with sensitive scalps may also find that this trick reduces pain and irritation.
Natural materials are thought by some to make the best detangling combs. Various types of wood are usually a popular choice, especially for combs carved from one solid piece of wood. Plastic and metal combs could potentially snag and damage the hair due to sharp edges or seams. Cellulose acetate is a man-made material, but is derived from wood pulp, and many detangling combs are made from this sturdy, yet pliable, substance.
Other beauty products may be used in conjunction with a detangling comb for better results. Deep-moisturizing conditioners and crèmes can be applied and rinsed out in the shower after shampooing. Leave-in conditioner and detangling sprays are another choice; these are used after a shower on damp hair. A detangling comb could help to evenly spread detangling products, as well as other styling products, throughout the hair. Depending on the thickness of one's hair and the type of comb used, one could also find the tool helpful during styling with a blowdryer.
Many beauty experts suggest first trying to run one's fingers through tangled hair to separate as many strands as possible. A detangling comb may be helpful as a next step, though one should be careful to use gentle, careful strokes. Using as few strokes as possible could help decrease potential breakage. Some detangling combs come with two long sets of teeth in the hope that only a few strokes will achieve the desired results.
AS FEATURED ON:
AS FEATURED ON:







By: Laurent Hamels

Using a brush to work out knots in hair can cause split ends.

By: Egyptian Studio

Wood combs are more expensive than plastic ones but considered healthier for hair.

By: indiraswork

Some detangling conditioners are formulated specifically for use on thick and curly hair.

By: Yuliya Horbach

Metal combs could potentially snag and damage hair due to sharp edges.

By: Valua Vitaly

A detangling comb may be used in conjunction with a detangling shampoo in order to achieve maximum effectiveness.

By: Coka

An alternative to detangling combs, detangling brushes typically have thick nylon or wooden bristles attached to a cushioned base.

By: Alliance

It's best to use a detangling comb when hair is still damp after a shower.