A foot soak is a mixture of herbs, salts, moisturizers, or other ingredients that are added to a container of warm water used for soaking the feet. Soaking the feet can be very relaxing as well as cleansing, and both commercial and homemade mixtures are available.
A simple, yet effective homemade foot soak can be made by adding two or three spoonfuls of baking soda to warm water. Soaking tired feet in this foot bath can soothe and freshen them. People prone to foot odors may find that regular baking soda and water baths for the feet can help.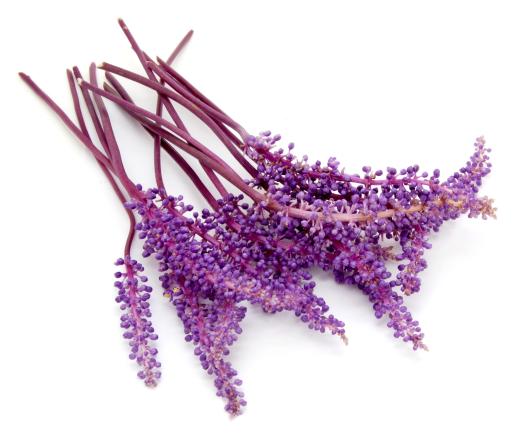 Ingredients can also be used to relieve conditions like athlete's foot, a fungal infection that causes itchy feet. A homemade baking soda-based mixture can help relieve the itchiness of athlete's foot, but medicated soaks or creams may be prescribed by a medical professional.
Non-medical, scented foot soak products are sold in jars. These products usually have herbs, such as peppermint, added and some also contain moisturizing ingredients such as avocado oil. Drops of essential oils, such as lavender, vanilla, or jasmine, can add a soothing aroma to a foot bath.
Epsom or Dead Sea salt is a main therapeutic component of many foot soaks because they contain the mineral magnesium. Magnesium is thought to help soothe sore muscles as well as reduce inflammation and swelling. This effect is why a mixture that contains magnesium-rich salts can make aching feet feel better. Salt from the Dead Sea in Jordan is extremely high in magnesium, and many bath products contain salts from this region.
Many people who do the calming, stretching relaxation exercises known as yoga also partake in foot soaking. This may be done after yoga or before bed to relax the body. These people may soak the feet in a container in their homes or in natural waters, such as a lake or river.
Electric foot spa soakers are available for sale to use in the home. These machines first heat the water, then create bubbles to help massage the feet. Some electric models have padded areas on which to rest the feet while they're soaking. Adding marbles or stones to the bottom of an electric foot bath can increase its massaging effects.
AS FEATURED ON:
AS FEATURED ON:







By: Kimberly Reinick

Lavender is a popular addition to foot soaks due to its pleasant and relaxing scent.

By: Deklofenak

Many people who participate in yoga also partake in foot soaking for relaxation.

By: Elenathewise

Epsom salts are the main therapeutic component of many foot soaks.

By: Boyan Dimitrov

An electric foot spa soaker.

By: roblan

A foot soak with baking soda can ease the itching of athlete's foot.

By: Tandem

Soaking one's feat can be both relaxing and cleansing.

By: Victor B

Salts from the Dead Sea have a high magnesium content, which reduces swelling and inflamation.