A hair weave is a treatment offered in many salons that provides clients with the look and feel of longer or thicker hair. The reason that this treatment is referred to by this name is that artificial or natural human hair purchased by the salon client is woven into the client's natural hair, quite close to the scalp.
Many people decide to get a weave because they want to have longer hair, thicker hair, or because they do not like the texture of their natural hair. The type of hair that is woven into the natural hair can be any color, length, and texture that client chooses. A natural blonde with short curly hair can get a hair weave that will leave her with gold locks all the way down to her waist.
Depending on the client's natural hair type and desired look, the hair weave may be applied in a number of different ways. In some cases, it can entirely cover the client's natural hair. In this instance, it is as though the client has a wig affixed to her head. A weave can also be used to accentuate one's natural hair. This type is generally used by people who have straight to wavy hair. If a brunette with shoulder-length hair wanted longer, thicker hair, she could have a hair weave added to add inches and volume to her look. The trick here is making sure that the additional hair matches the natural hair. This type is often referred to as "extensions."
Getting a hair weave often requires quite a bit of time and money. Salon clients can spend hundreds of dollars on the hair alone. Human hair, for example, is often much costlier than synthetic hair. The service through which the additional hair is woven into the natural hair can take hours of time and, depending on the salon, a good deal of money. Furthermore, if you decide to get a weave that is a different color than your natural hair, you may have to have your hair colored as well.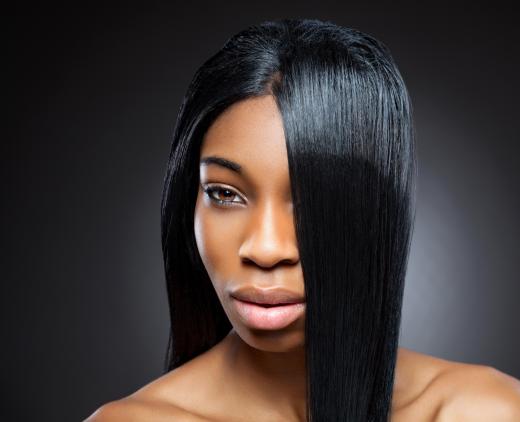 If you are interested in getting a hair weave, it is important to note that you will have to return to the salon to have the weave removed and, of you choose, to have a fresh weave applied. Depending on the type that you get and the growth rate of your hair, your following appointment could be between three weeks and two months.
AS FEATURED ON:
AS FEATURED ON:







By: soup studio

A hair weave can provide a client with the look and feel of longer or thicker hair.

By: FashionStock

Weaves take a long time to get done and can be expensive.

By: and.one

Hair weaves can be for straight or curly hair.

By: alarsonphoto

Hair weave extensions can be made of synthetic or natural hair.

By: VeremeeV_1980

It may be wise to choose a hair weave that closely matches a person's natural hair color.