What Is a Inverted Bob Haircut?
An inverted bob haircut is a popular hairstyle that many women and men wear. One of many short types of haircuts, it involves cutting the back of the hair above or at the nape of the neck. The sides and front of the hair are then tapered to create a curtain effect, with the shortest strands in the back, and the longest strands framing the face.
Bob hairstyles are designed to provide the wearer with a fuller-looking head of hair. The crown appears to have more height with this cut, making it a popular choice for people with thin hair. The asymmetrical shape that results from the hairstyle also provides a modern look that many people employ when updating their look or getting a makeover.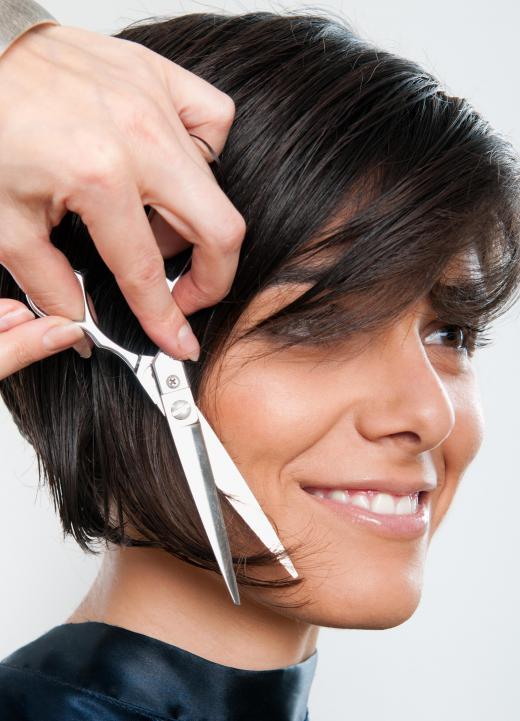 The inverted bob can have many different variations. Some people incorporate layers into the bob, while others prefer to have the only length variation at the hair's tips. Other names for the inverted bob haircut include the stacked bob, the concave bob, and the wedge bob. Some also refer to the haircut as the posh bob, named after Victoria Beckham, a celebrity who famously wore the hairstyle.
Though an inverted bob haircut can be curly, most styles featuring this cut are sleek and straight. While the back of the hair is almost always very short, at the neck level or higher, the lengths of the sides and front of the hair can vary widely. When getting an inverted bob haircut, some people ask for their front strands to be as short as their chin length or a bit longer, while others may keep the strands framing their faces very long to provide an even more asymmetrical appearance. Still others might even choose to have one side longer than the other for a very unique look.
Due to its flexible range of styles, this haircut is considered appropriate for most age groups. It can provide comfort and a low maintenance style for elderly women and children. Teens can use the style to be hip, often adding colors or attachments, and professionals can employ it for a polished, presentable appearance.
When getting an inverted bob hairstyle, one can ask his or her stylist about what might be most appropriate for his or her lifestyle and face shape. Some cuts may require more maintenance than others. Though a person may seek sharp or jagged layers, these may not be appropriate for an angular face, while round layers might work best to soften a jawline.
AS FEATURED ON:
AS FEATURED ON:







By: Rido

A hairstylist cutting an inverted bob.