What Is a Concave Bob Haircut?
A concave bob haircut is a hairstyle that is longer in the front than it is in the back. Bobs in general are above shoulder length and follow the line of the jaw, but hair cut in a classic bob is all the same length. This style is also known as the inverted bob, the A-line bob or the wedge bob.
When a hairstylist cuts a classic bob, he or she takes all the hair off at a point above the shoulders but below or at the jawline. Hair cut in a traditional bob is even all the way around the head, framing the face. There are a number of variations to this cut, however.
Clients with a concave bob haircut, on the other hand, have hair that is longer in the front and shorter in the back. One alternative name for a concave bob, the A-line bob, indicates the angle at which the hairdresser cuts in the style. Shortest at the back of the head, the angle of the hair gets lower and lower as it reaches the front of the face.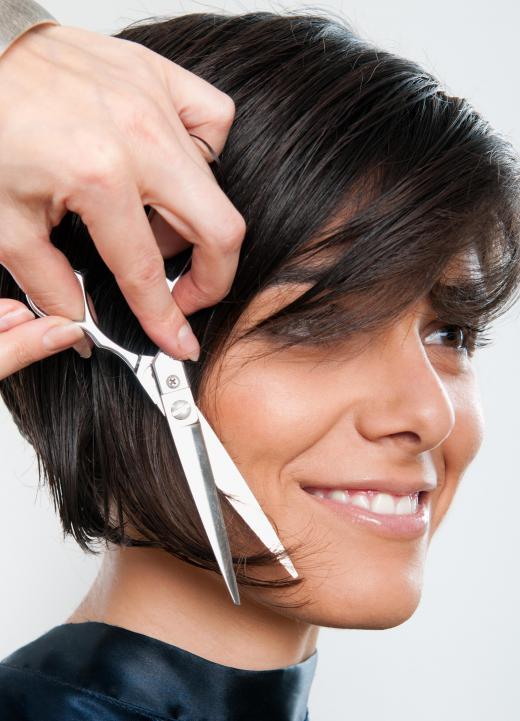 Layers may be a component of this haircut, especially if the client has thin hair that needs more volume. When a hairstylist cuts layers, he or she trims hair to varying lengths to create volume and movement. Layers can also soften the ends of the hair so the bottom of the bob doesn't look chunky.
In contrast to a classic bob, a concave bob may have several different features at the front of the hair. One example may be blunt bangs cut across the forehead, which gives the entire haircut a very geometric shape. Feathered, or sideswept bangs, are another option. For a unique look, a hairstylist can also cut the front sections of the bob asymmetrically, so one side is longer than the other.
Those with a concave bob can also alter the look of the haircut by parting the hair on one side to make the cut even more asymmetric. Color is yet another feature that a hairstylist can add for a client. Colorful streaks or highlights on the front of the hair can help to emphasize the angle of the bob and frame the face.
AS FEATURED ON:
AS FEATURED ON:







By: Rido

A side view of a concave bob haircut.

By: Rido

A hairstylist cutting a concave bob.