What Is a Mobile Manicure?
A mobile manicure technician is a nail professional who travels to her clients to perform manicures, and sometimes pedicures. Usually, the technician is a licensed professional with a nail tech certificate. Mobile nail professionals do much of the same work that is performed in nail salons, but it is performed in the client's own home, or a location of her choosing.
Since the technician must travel to different homes, she needs to have her equipment ready to go at any time. A large cosmetics box can hold everything she needs to do all types of manicures and pedicures. If chemicals are used, she must have provisions for safely storing them as well.
Marketing is especially important for a mobile manicure business, as there is no brick-and-mortar store for clients to see or visit. Technicians often place ads in various locations, such as hair salons and beauty supply stores. Other popular techniques include cold calling, emailing, and online marketing.
Aside from the location of the service, the process of a mobile manicure isn't really different from a traditional one. The client calls the nail tech and asks for an appointment, then the technician travels to the client's home at the specified date and time. The manicurist is usually paid in cash after services are rendered.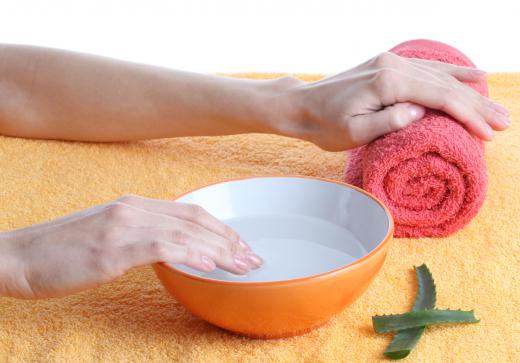 People who administer mobile nail services may need to be licensed by the jurisdictions in which they work. In many places there are laws governing nail tech certification and services that must be followed, even in a client's home. To be licensed in the US, a manicure tech must possess a certificate in nail services from an accredited school and pass a state board exam to get the state license.
In many cases, business expenses are lower for a mobile technician than for one who works in a salon. Normally, technicians must pay a monthly or weekly fee to the nail salon to rent a station. This fee is the same every month, regardless of how much money the nail tech brings in from clients.
Someone who enjoys traveling and marketing his own business may enjoy being a mobile manicure tech. These professionals generally are free to create their own schedules, get clients, and work anywhere. It may cost more money upfront to get the necessary tools to create a traveling manicure station, but technicians generally can charge a bit more for mobile manicures because of the added convenience for the clients.
Besides needing the required certificate and licensure, a mobile manicure professional also needs to have entrepreneurial skills. People skills are a necessity as well. Mobile nail technicians also must be able to keep up with new laws, trends, and procedures without the assistance of a supervisor.
AS FEATURED ON:
AS FEATURED ON:







By: sakura

A mobile manicure is performed by a manicurist who offers in-home nail care services to clients.

By: Photographee.eu

The fingernails are typically cleaned and soaked during the manicuring process.