What is a Nail Art Brush?
A nail art brush is a tool used by manicurists to draw designs nail polish and patterns on top of natural or artificial fingernails. These brushes are also sometimes used to create designs and patterns on toenails. In addition to being used in professional settings such as nail salons and spas, these brushes are sometimes used at home by people who have learned to make their own nail art. There are a few nail art brush models that are used to create various effects just as there are different paint brushes that are used to create different effects in paintings on canvases.
In most cases, a nail art brush is a very fine tool with just a few fibers or hairs. The fine, thin tip of the nail art brush allows the user to create very fine lines and details. This is important because, even on larger nails such as the thumbnail and the nail on the big toe, the working area is quite small. In order to create detailed designs on those small spaces, one must use both skill and exact tools.
There are various kinds of designs that can be created using a nail art brush. Some of the most common symbols that are incorporated into nail art art floral images such as flowers and vines and celestial images such as moons and stars. It is also common for women to choose nail art designs that correspond with the seasons. A woman might have a Christmas tree painted on one of her fingernails during the winter holiday season.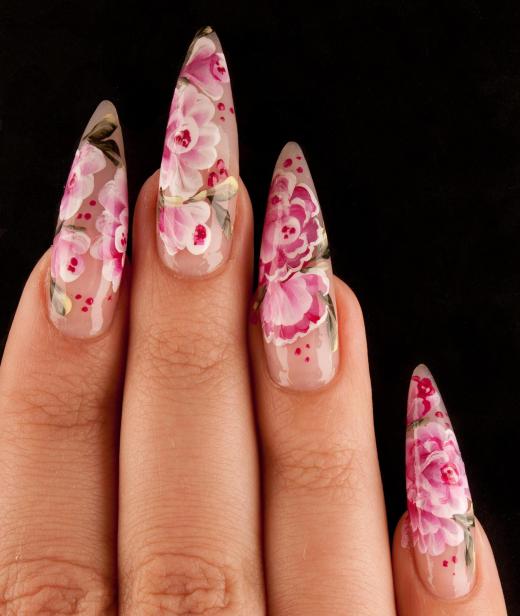 A nail art brush set commonly includes three to six brushes, which may or may not have different types of brushes on both ends. This kind of set usually includes one brush that is used to paint lines that are long and thin, a brush that is used to make lines that are shorter and thicker, and another brush that is used to make dots. The set might also include a fan brush.
Another type of nail art brush is an air brush. In some salons, an air brush machine is used to paint designs onto fingernails. This kind of machine might also be used to quickly create a French manicure. Instead of drawing a flower or star in the centers of the fingernails. the machine is used to create an even white line on the tips of each of the fingernails.
AS FEATURED ON:
AS FEATURED ON:







Artificial fingernails with nail art.

Ornate nail art design on artificial fingernails.

By: Valua Vitaly

A nail art brush can be used to quickly create a French manicure.