A pave or pavé (pronounced pah-vay) setting is a stone setting in which multiple small stones are set close together and very close to the surface of a piece of jewelry, making it look like the jewelry has been paved in gemstones. One classic use of this setting is in diamond jewelry, where multiple small diamonds can shine with brilliance when set this way. This type of setting is especially popular for rings and pendants.
The appearance of a pave setting is quite distinctive; it looks almost like the jewelry has been rolled in gemstones. The setting may also be combined with other settings, such as a ribbon of pave set diamonds paired with a bezel set solitaire that is larger than the surrounding stones. Any gemstone can be used in this way, but the style of the setting promotes the play of light through the stone, so translucent stones like emeralds, rubies, diamonds, and topaz are especially suitable.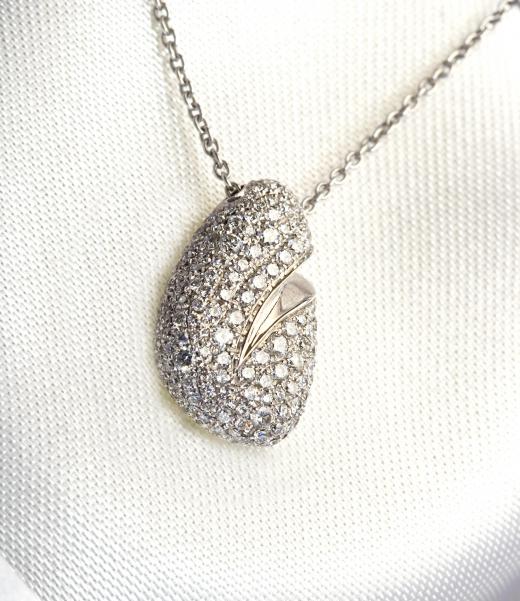 To make this setting, jewelers make a series of impressions in the metal that are used to seat the stones, and small beads or prongs are used to pin the stones in place. The goal is to have as little metal showing as possible, so that the brilliance of the stones can be clearly seen. The setting may only be applied to one surface, or it may wrap around in a three sided or round setting, a popular option for rings.
The risk of the pave setting is that it is not always the most stable way to hold gemstones. Stones are prone to falling out, and dirt can get into the spaces between stones, obscuring their brilliance. It is important to schedule regular inspections and cleanings of a pave set piece of jewelry, to ensure that it remains in good shape, and it is also advisable to wear such jewelry alone, rather than stacking it with other rings and necklaces, as contact with other pieces may dislodge the tiny stones.
Some people choose this type of setting because they find it attractive, or because such jewelry can be less expensive than other styles. Generally, the smaller the stone, the less its value, even if it is of very high-quality. This means that someone with a limited budget can purchase a beautiful, glittering piece of jewelry with a pave setting, rather than a piece of jewelry with a single smallish stone. Not everyone likes the paved surface look, however, and it is a good idea to solicit opinions before purchasing a pave set piece for someone, especially if it is intended as an engagement ring.
AS FEATURED ON:
AS FEATURED ON:







By: Alon Brik

A pave setting is where multiple small stones are set close together and close to the surface of a piece of jewelry.

An eternity ring with pave settings.

By: Halfpoint

Pave diamonds are sometimes used in conjunction with a large central stone for engagement rings.