What is a Peter Pan Collar?
A Peter Pan collar is a specific type of shirt collar, usually found on women's and girl's clothing. The collar evokes a sense of innocence, and the simple design appeals to many women of all ages. Like many fashion trends, the popularity of the collar waxes and wanes, but a few examples can usually be found on the racks of a department store, especially in the girls' section. It is also possible, of course, to sew your own clothing with a Peter Pan collar, or to modify an existing shirt collar.
Several things distinguish a Peter Pan collar from other types of shirt collars. The first, and most distinctive, is the rounded edges. The edges of the rounds may meet or overlap, or there may be a gap between them. The collar also tends to be small and unobtrusive, as well as close fitting. Typically, a shirt or dress with a Peter Pan collar is modest, since the collar hugs the neck, not leaving room for display of décolletage or cleavage.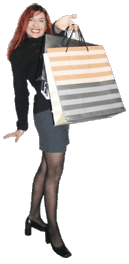 The name of the collar is a reference to Peter Pan, a fictional character who lives in Neverland in the novel of the same name, written by J.M. Barrie in the early 1900s. The story is a fairytale about a little boy who never grows up, and the Peter Pan collar is intended to evoke the same fairytale sense of eternal youthfulness. On clothing for young girls, the collar is a perennial favorite since it is a classic, simple look. On older women, it is often a subject of debate in the fashion world, with many women either loving or hating it.
The shape and name of the Peter Pan collar appear to have originated in the mid-20th century. The design became very popular for school uniforms, and began to spill over into popular culture. Despite being named after a masculine character, it is associated primarily with feminine wear, and rarely appears in men's fashion.
Many sewing patterns for shirts and dresses include a Peter Pan collar, or an option for creating this collar. It is also possible to modify the collar of an existing shirt in many cases, by carefully cutting the relevant sections apart and re-sewing them to form the classic rounded edges.
AS FEATURED ON:
AS FEATURED ON:







Woman shopping