A rattail is a hairstyle in which a lock of hair is left longer in the back, extending near or below the collar. First popularized in the mid-1980s, the rattail went out of fashion by the 1990s. Still, it has lingered in pop culture and has long been associated with stereotypes of poor, white North Americans.
Some cultural observers classify the rattail as a type of mullet. Both hairstyles are often closely trimmed at the top and sides of the head. The mullet, however, features long hair throughout the lower back of the head that extends like a hairy curtain toward the collar. The rattail is a more slender, discrete growth of hair, usually sprouting from the middle of the back of the head amid hair that has been cut much shorter.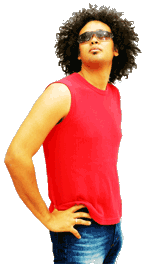 In the 1980s, rattail wearers used the hairstyle to express themselves with surprising diversity. Many dyed their rat tails different colors to make the long locks more prominent, and others curled, braided or wove them into dreadlocks. Some even augmented their rat tails with weaves to make them longer.
At its height of popularity, the rattail transcended racial and cultural boundaries. Skateboarders often wore them, as did punks who sometimes shaved their heads except for long, aggressive rat tails. The style even took root — briefly -— in hip-hop culture following the 1988 Eddie Murphy movie "Coming to America," in which the comedian played an African prince whose rattail is part of his national and cultural identity.
As it faded from style, the rattail became more synonymous with poor whites. An example of this is a 1998 episode of "The Simpsons" entitled "Bart Carney," in which the Simpson family runs afoul of a conniving carnival worker and his bumpkin son, who has a prominent rattail. An Internet search of rattail will produce numerous mocking tributes with words such as "redneck" and "poor white trash" featured with pictures of the infamous hairstyle.
Although it has become much rarer, the rattail has continued to make unexpected appearances in pop culture. In the "Star Wars" prequels, young Jedi apprentices sported rattails that distinguished them from other children who did not enjoy special connection with the mystical Force. Rattails are sometimes seen on Japanese Manga characters drawn with more bizarre and outré hairstyles. Basketball player Alando Tucker grew a rattail while playing for the Phoenix Suns, but he noted that he did so only because he lost a bet.
AS FEATURED ON:
AS FEATURED ON:







Man with hands on his hips