A shootie is a blend of a boot and a shoe. Shooties are ladies footwear that reach up to the ankles. Like most other more unusual takes on traditional wearables, shooties go in and out of style depending on fashion trends. There are many different variations of the shootie footwear design.
The closed toe pump style of shootie most resembles a boot – especially when it's made from suede. Closed toe suede shooties may feature a wrinkle design very similar to slouch boots. Closed toe pump styles of shooties are often suitable for office wear when worn with tights. Shooties and tights along with sweaters and wool skirts can be popular clothing for colder weather.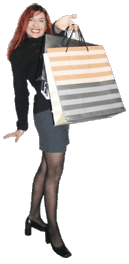 In warmer weather, open toe styles of shooties are more suitable. Although these shootie styles often feature cut-out designs and peep toes, they don't bare as much of the feet as hot weather sandals. One feature shooties never have is an ankle strap, although they may have just a band of material over the ankle and some open cut designs below it.
Some types of shooties lace up in the front and tie at the ankle. These may be a modern take on classic oxford shoes. Oxford footwear designs feature a contrasting section of color such as white on black. Saddle oxford styles have a saddle-shaped colored section added to the footwear. Oxford shooties are available in different color combinations.
All the different kinds of shooties can be purchased in a wide selection of colors from neutrals and darks to brights. Many shootie versions have a decorative detail such as a button, bow or buckle added. Some designer styles of shooties feature chains and charms hanging from the top of the shoe boot.
A shiny patent leather shootie can look very dressy, while a slouchy suede style appears more rugged. Buttery soft leather versions of shooties can be elegant. Toe shapes on these boot shoes or shoe boots range from pointed to rounded to square. The heel heights and widths also vary widely just as they do in traditional boots and shoes.
Shooties are often considered a flattering footwear style for people with thick ankles. Keeping the shootie color in the same family as the tights, skirt and top in an outfit can also give a slimming look to the whole body and visually elongate the legs. Depending on their style, shooties can often be worn with menswear-inspired women's fashions such as wool pants and a vest as well as more feminine clothing such as a ruffled blouse.
AS FEATURED ON:
AS FEATURED ON:







Woman shopping