A Stetson hat is a special type of cowboy hat manufactured by the Stetson Hat Company, today based in the American state of Texas. The distinctive design of the Stetson hat has become so iconic that many people use the term generically to refer to any sort of cowboy hat, although the Stetson company works hard to protect its trademark. Most hat stores, especially stores which offer Western-style hats, carry Stetsons, and they can also be ordered directly from the company.
This hat is named for John Batterson Stetson, a hat manufacturer who lived from 1830-1906. In 1869, Stetson founded a hat company in Philadelphia which started producing the distinctive high-crowned, wide-brimmed felts hats, and also revolutionized the hat making industry, becoming one of the first hat companies to mechanize.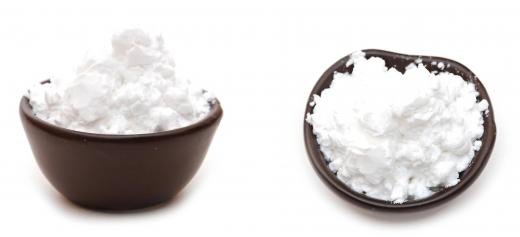 There are a number of myths about the origins of the Stetson hat, most of which focus on the American West. In fact, the Stetson design was developed by a hat manufacturer in England, and licensed to Stetson. Christy's Hats, the original manufacturer, may have failed to capitalize on the design, but Stetson more than made up for it, developing an iconic hat which continues to be worn by cowboys and Western aficionados today.
Classically, the Stetson hat is made from felt which includes a high concentration of beaver fur. The felted design makes the hat waterproof, ensuring that the head and shoulders of the wearer will stay dry during inclement weather. The broad brim protects the eyes and face from the sun, and in a pinch a Stetson hat can be inverted and used as a water bowl for people or horses. The lining is often waterproofed to ensure that it will hold water securely.
Modern Stetson hats come in a range of colors and sizes, and they may be plaited from straw in addition to being felted. The company manufactures both dress and casual hats, along with made-to-order hats for organizations like the Royal Canadian Mounted Police, which has historically used Stetson hats in formal uniforms for some divisions.
When selecting a Stetson hat, it is important to try the hat on to make sure that it is a good fit. Stetsons can be cleaned with damp cloths and soft brushes, and in the event that a hat stains, talc or cornstarch can be used to absorb the stain and then gently dusted off. Stetsons should not be exposed to extreme heat or humidity, and they should be stored on their crowns so that the brim does not flatten. It is also extremely unwise and impolite to wear someone else's Stetson hat, as the hats conform to the heads of their wearers over years of wear, and an unfamiliar wearer may stretch the hat out of shape.
AS FEATURED ON:
AS FEATURED ON:







By: vadim yerofeyev

Cornstarch, which can be used to soak up stains on Stetson hats.

By: Michael Flippo

A Stetson hat.

By: SeanPavonePhoto

the Stetson Hat Company was founded in Philadelphia.

By: Nejron Photo

Many people pair a Western belt buckle with a Stetson hat.