What Is a String Face Lift?
A string face lift, or thread face lift, is a non-invasive procedure that can help delay the signs of aging as they first begin to appear. String lifts can usually be done quickly and require about a week of recovery time. Plastic surgeons typically perform one by using a needle to thread barbed sutures beneath sagging facial tissues. The barbs beneath the skin form a supporting structure that lifts the tissue.
The typically thread lift candidate is between the ages of 35 and 45. The method is recommended for younger patients, because it can help delay the signs of aging. As time goes by, surgeons can usually tighten the sutures threaded beneath the skin to help maintain the results of the surgery. It is typically performed on those who are showing only the first signs of sagging skin.
Small incisions are typically used for the string face lift procedure, through which the surgeon inserts the barbed sutures. The barbs not only lift the skin, but they encourage the body to produce more collagen in specific facial areas. There are multiple techniques for performing this procedure, but they are usually performed in either an open or closed fashion. Open string lifts allow the surgeon to place the barbs beneath the skin with the help of surgical instruments. Closed string lifts require the surgeon to mold facial tissue over the barbs until they catch in the best place to improve appearance.
String face lifts are typically performed on an outpatient basis, and the procedure usually takes about one hour to perform. General anesthetic is not typically required. Patients remain awake, and they are treated during the procedure with local anesthetic and oral sedative medication. Many surgeons allow patients to give feedback when the threads are pulled back to lift the sagging skin, so the process can give many patients more control over their results.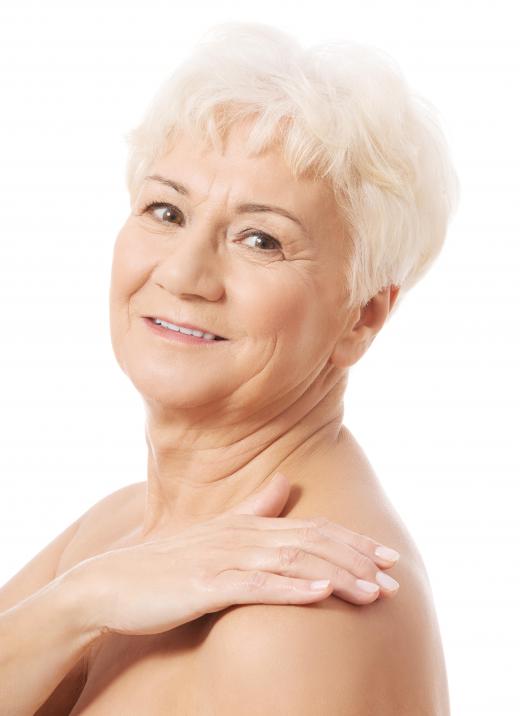 Recovery takes about seven days. Many patients may need help with daily activities for the first 24 hours after treatment, and a soft-food diet may be required for the entire week. Oral pain relievers like acetaminophen can generally relieve the pain associated with recovery. Swelling and bruising may not completely recede for up to three weeks following the procedure.
How Painful is a String Face Lift?
A string facelift is not as invasive as a typical surgical facelift, but it is not a painless procedure. Local anesthesia will be administered to help reduce any pain that occurs during the actual process of insertion, but once it wears off people can expect to have a moderate amount of pain due to the barbed threads tugging the skin upwards. The level of pain experienced may differ from person to person, depending on individual pain tolerance, and it may also vary with the location of the lift. Someone who is receiving a string lift in the face will likely experience more soreness than another patient that is getting one to tighten their breasts, as there is less fat and tissue in the facial area to cushion the trauma of the needle. Before the appointment, patients should avoid drugs, alcohol, and any food that may cause inflammation. After the procedure, there may be some swelling and bruising, but the recovery process should not last more than a few days. Doctors may advise that the patient avoid possible irritants for a week, like saunas or intense workouts, but they can otherwise return to life as normal.
Complications
Thread lifts are generally considered to be low-risk, but there are possible complications that can occur after the procedure. Going in for this procedure presents about a 20% risk of complication, depending on individual patient factors. Allergic reactions are a common complication, as people may be intolerant of the materials used in the thread without knowing beforehand. Dimpling is another common reaction, showing small indents where the threads were inserted. When dimpling shows underneath the skin, it means that the plastic surgeon has placed the threads too close to the surface, and they will need to go back in and adjust them in order to correct the healing process. Other complications include bleeding, thread movement, and overall tightness. The most important issue to watch out for when dealing with a thread lift is the risk of infection. Signs of infection at the incision sites include colored discharge and swelling that has not gone down for at least two days. Headaches and fever also indicate infection and are an alert that you need to see a doctor. Infection should always be taken seriously, as it can lead to sepsis and possibly death.
Is a String Face Lift the Same as a Face Lift?
A string lift, otherwise known as a thread or suture lift, is not the same as a general facelift. A facelift is a surgical procedure that is done in a hospital under general anesthesia. A surgeon fully removes extra skin, smooths out wrinkles, and tightens the overall appearance of the face. During a thread lift, the doctor will insert small barbed threads in the skin that provide a tightening appearance but will dissolve over time. Thread lifts also stimulate collagen production within the body, which gives the appearance of plump, full skin. Compared to a string lift, a facelift procedure is associated with higher risk and higher cost, but it also gives a much more dramatic effect. As both are elective cosmetic procedures, they are not likely to be covered by insurance. With a surgical facelift, the cost of the surgery, hospital stay, and medications can add up, so an outpatient procedure like a string lift can be a cheaper alternative; however, facelift procedures last much longer than a string lift, so it may be the more cost-effective option in the long run. 
How Long Does a String Face Lift Last?
The length of a string lift's effects vary from person to person, but patients can typically expect to see lifting results for one to three years after the procedure. The threads inserted in the face are similar to other dermal fillers, meaning that they dissolve over time. While it is not as long-lasting as a facelift, knowing that the effects will fade makes it a more approachable option for many people. If they do not like the look of the lift, they can simply have the threads dissolved. Typically though, most people are very satisfied with their experience. Patients that pursue this type of cosmetic enhancement are usually committed to it as a lifestyle and yearly maintenance enhancements are a common choice among the string lift population. If someone elects not to proceed with another thread lift, there should not be any visible negative effects on the face, other than the natural signs of aging. Dermal fillers and materials used in thread lifts are FDA-approved, but they have not yet been extensively studied to determine their long-term effects on the body.
Who Is a Good Candidate for a Thread Face Lift?
People who can most benefit from a thread face lift are men or women in their late thirties to early fifties. While most patients over the age of 55 typically prefer traditional face lifts, a thread lift can be an excellent alternative for older patients who have medical conditions that prevent them from undergoing cosmetic surgery.
How Long Does a String Face Lift Last?
While a typical face lift surgery lasts up to a decade, it is a much more invasive procedure. Those who opt to undergo the thread face lift procedure should know that the results typically only last 1-3 years. However, since the procedure is much less invasive and considered low-risk, it is perfectly acceptable for those who get a thread lift to have a fresh lift of new sutures when the old ones fully absorb into the body.
How Much Is a Thread Face Lift?
The cost of a thread face lift varies greatly depending on where you live, how many areas of the face you intend to target with the procedure, and how much experience the person doing your lift has. The average cost of a thread lift in the United States is $2,050, which is about 40% less expensive than a traditional face lift.
There are several areas that the lift can target, including the jowls, eyebrows, under the eyes, and the forehead. The more of these areas you choose to have worked on at one time, the more you can expect to pay for your thread lift.
One financial benefit of thread face lifts is that they do not require general anesthesia, which means you'll save money on the cost of sedation for a procedure. You'll also save money with a thread lift because you will not need to take time off of work to recover. In fact, many people go back to work the same day or the next day.
Keep in mind that your plastic surgeon may recommend that you get additional treatments to help your problem areas. If he or she recommends Botox or other procedures in addition to the thread lift, be sure to ask about how much the extra costs will come to.
What Are the Advantages of a Thread Lift?
There are several benefits to getting a thread face lift. Perhaps the biggest one that draws people in is that it provides immediate results. Traditional face lifts can take weeks to show results, especially when you consider recovery time. With a thread lift, you'll see results almost instantly. The tighter, more youthful skin occurs when the thread pulls your face taut, eliminating wrinkles and making your face have a smoother appearance. The quick recovery time, financial savings compared to traditional lifts, and lasting results are just further benefits.
What Are the Disadvantages of Thread Lift?
As with any cosmetic procedure, there are some disadvantages to string face lifts. For some, the biggest disadvantage is the fact that the results are temporary when compared to traditional face lifts, which means the need to do the procedure more often to maintain results. Additionally, where traditional face lifts are effective for all age groups and have more prominent effects, string lifts only work for the initial signs of aging and will have more subtle results.
Because a thread face lift is considered a surgical procedure, it does carry the same risks as other types of surgeries. On rare occasions, patients may have an allergic reaction to the threading materials. Other risks include bleeding, visible pulling where the threads were inserted, or unintended movement of the threads over time. If the thread is too tight or placed awkwardly, it can also result in pain under the skin. Very rarely, people experience infection after the procedure. Seek medical attention if you notice discharge, have swelling for more than two days, or develop a headache or fever.
How To Prepare for a Thread Face Lift
There are several dos and don'ts that you should keep in mind in the time before your thread face lift procedure. Prior to the procedure, be sure to tell your surgeon about any prescription or over-the-counter medications that you take, as well as any vitamins or other supplements. This helps to ensure that you don't have any unexpected reactions. Try to relax and do your best to avoid any stress the night before your procedure, and be sure to eat foods that won't cause any inflammation triggers.
The night before your thread lift appointment, avoid drinking alcohol. You should also avoid any NSAID medications or blood-thinning medications for at least one week prior to your thread face lift appointment.
AS FEATURED ON:
AS FEATURED ON:







By: Mikhail Malyugin

Small incisions are typically used for the string face lift procedure.

By: Sherry Young

A string face lift requires barbed sutures.

By: Piotr Marcinski

A string face lift can be used to delay the signs of aging as they first begin to appear.

By: diego cervo

Bruising from a string face lift may not recede for three weeks following the surgery.

By: WavebreakmediaMicro

A plastic surgeon may perform a string face lift by using a needle to tread barbed sutures beneath sagging facial tissues.

By: danr13

The typical thread lift candidate is between the ages of 35 and 45.

By: JPagetRFphotos

Patients may experience pain after a string face lift.