What Is a Tailored Skirt?
The term "tailored skirt" typically refers to a design or style of skirt which is fitted through the hips and thighs in a simple, slender silhouette. The hemline can vary from ankle length to mini. The skirt may also have embellishments, like an integrated belt, corset ties, colorful top stitching, or trim.
Tailored skirts are sometimes called pencil skirts. Their popularity grew after the 1920s, and they have remained a wardrobe staple throughout the following decades for women with a variety of aesthetic tastes. The versatility of the skirt makes it appropriate for business, black tie, and everyday wear. It can be conservative or provocative, depending on the design.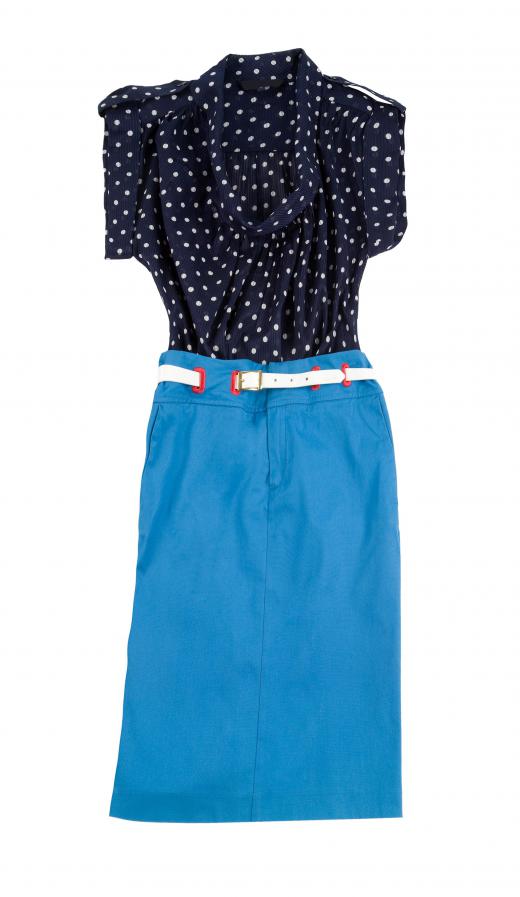 A conservative tailored skirt is not snug but fits well through the strategic use of seams and darts. It usually has a waistband, a side or back zipper, and a small slit at the center back for ease of movement. A pencil skirt can rest at a high, natural, or low waistline and may have elastic at the back of the waistband for comfort and ease of movement. There is little embellishment, the hemline is knee length, and the color is a neutral black, gray, brown, or white .
Trendy tailored skirts are often fitted much tighter, with high back or front slits and may have embellishments. Usually shorter than conservative tailored skirts, trendier designs can be found in a variety of colors and prints. Animal prints, bright colors, and complex seaming contribute to the fashion forward design of a trendy tailored skirt.
The traditional fabrics used to make a tailored skirt are suiting materials, such as wool, tweed, and cotton. It is possible, and quite common, however, for tailored skirts to be made of denim or man-made materials as well. The fabric, second only to the cut, affects the style of the skirt. Typically, a wool skirt is more conservative than a leather skirt, and a sequined skirt is more provocative than a cotton one.
Tailored skirts can be flattering on a variety of body types. Simply adjusting the hem or choosing the correct waistline can change the body's silhouette. An hourglass figure with a long torso can wear a high waisted tailored skirt and achieve a very attractive look. Petite figures can choose a slightly higher hem length, up to four inches above the knee, to appear leggier. Wearing a pencil skirt in black is slimming on most figures.
AS FEATURED ON:
AS FEATURED ON:







By: lalouetto

A tailored skirt may have embellishments like an integrated belt or colorful top stitching.

By: Antonio Gravante

Tailor-made clothing is customized to fit a person's precise body measurments.