A thermal shirt is usually a round, or crew, necked shirt with long sleeves. Its purpose, like all thermal clothing, is to retain body heat in cold temperatures. Many of these shirts are made of silk, nylon, spandex, polyester, fleece, wool or a cotton blend. They are typically used as base layer for cold weather dressing.
Some thermal shirts have a close, stand up type collar, which increases the warmth factor. The shirts are often used for fitness and exercise and are touted to prevent overheating during strenuous activity. One can be layered under t-shirts or sweaters during cold weather, or even worn alone. Often, they are advertised to keep the wearer dry by wicking moisture from the body, so they are ideal for athletes.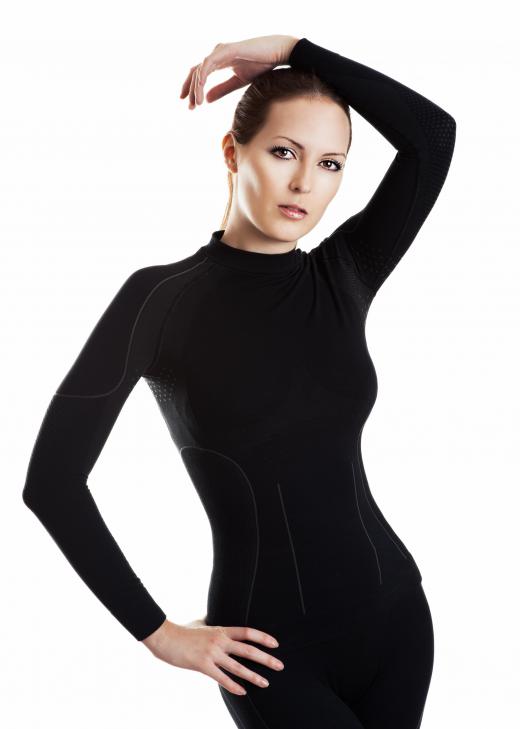 Often, this type of garment is knit in a waffle-weave pattern that assists in trapping body heat. Many have ribbed knit cuffs to prevent cold air from entering the sleeve area and flat seams that reduce chaffing. These shirts are usually washable, and some even contain anti-microbial properties to reduce odor.
Once only found in basic colors and as a utilitarian type item, more design options have emerged as thermal shirts have become more popular. They are worn by both men and women, although women's shirts tend to have stylish features such as v-necks or scoop necks and a more slimming silhouette. Some thermal apparel has been manufactured from bamboo grown without pesticides and made with biodegradable dyes.
In addition to thermal shirts, many other thermal apparel items are manufactured, including underwear, socks, jackets, hats, gloves, etc. Thermal glove liners, worn under traditional gloves, serve a similar function.
AS FEATURED ON:
AS FEATURED ON:







By: katalinks

Thermal shirts are now offered in stylish and slimming styles.

By: phiseksit

Silk cocoons. Fabrics made of silk can retain heat well, so they are often used in thermal shirts.

By: Lucky Dragon

Thermal clothing is meant to retain body heat in cold temperatures.

By: emanuela carratoni

In addition to thermal shirts, a variety of similar apparel is designed to keep the body warm, such as socks made of materials like wool.

By: RTimages

The best thermal shirts are warm, yet thin enough to wear under several additional layers of winter clothing.