What is a Toothpaste Dispenser?
A toothpaste dispenser, also referred to at times as an automatic toothpaste dispenser or a toothpaste pump, is a device that releases toothpaste usually at the press of a button or lever. The product eliminates the need for a user to open, squeeze, or measure paste every time he needs to brush his teeth. Several manufacturers now produce this dispenser for home use, each with a variety of convenient advantages as well as disadvantages.
The toothpaste pump was first invented in Germany by an unknown person. Henkel AG & Company of West Germany was the first company to sell the product. Minnetonka, a fairly small company located in the state of Minnesota, was the first to sell the product in America. Larger entities such as Procter & Gamble™ were able to out-produce Minnetonka. Now, automatic toothpaste dispensers are a somewhat popular item on televised shopping networks and in home goods stores.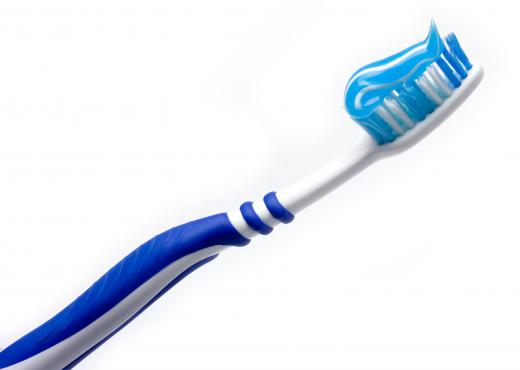 The dispenser is usually made of plastic with a rounded bottom; some models come with a cover to hide the toothpaste tube. The product can stand on any counter surface or it can be mounted onto a mirror or tiled wall with suction cups or adhesive strips. The user must first open a tube of toothpaste and place the open end into a hole at the bottom of the dispenser through which the toothpaste may be distributed. Different manufacturers may have their own specific instructions for setting up the dispenser.
By pressing a button at the top of the dispenser, pushing a lever where the toothpaste comes out at the bottom of the dispenser, or by activating an automatic sensor, the paste dispenses directly onto a toothbrush. Many people consider this ease of use an advantage, especially when teaching young children proper dental hygiene. Most brands of toothpaste dispenser tout their ability to distribute the proper amount of paste each time. This feature eliminates using too little paste, which may not yield the best hygienic results, as well as too much paste, which wastes it. Some brands mention the pump's ability to use an entire tube of toothpaste better than when squeezing the tube with the hands, saving money in the long-run.
There are customers who feel the toothpaste dispenser has its disadvantages as well. A cheap pump may cause the open end of the toothpaste tube to dry out, causing stoppage and waste. Other pumps, whether defective or flawed in design, may leak toothpaste while the user is away, creating an unwanted and unused pile of paste. It is a good idea for individuals to check for customer reviews and return policies when considering the purchase of a toothpaste dispenser.
AS FEATURED ON:
AS FEATURED ON:







By: manipulateur

A toothbrush with toothpaste on it.

By: Gerhard Egger

The toothpaste pump was first invented in Germany by an unknown person.