What Is a Vinegar Douche?
A vinegar douche is a cleaning solution for a woman's vagina, and vinegar, along with baking soda and water, are common ingredients in douching products. The safety and effectiveness of douching is often debated because studies show links between this practice and health problems. In addition, some experts state that using a douche is unnecessary, because the vagina is supposed to clean itself. Introducing vinegar into a woman's body could upset the natural balance of the birth canal's flora.
Douches are usually a mixture of fluids in a bottle, and they have a hose or tube to squirt the fluid into the vagina. The liquid quickly comes out again, flushing out menstrual blood and the vagina's natural lubrication. Some women believe that using a douche is part of having good personal hygiene, while others may believe it helps prevent pregnancy or sexually transmitted diseases. Preliminary studies show that it could lower the risks of getting pregnant, but it is too early to know for sure and weigh this benefit against the drawbacks of douches in general.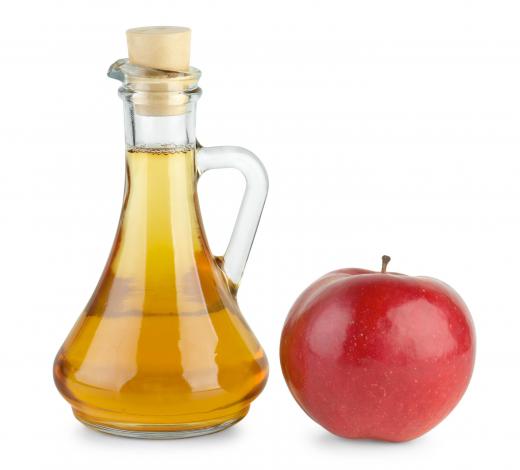 A vinegar douche can be purchased at a pharmacy or drug store or mixed at home. When mixing a douche at home, many women use an apple cider vinegar mixed into warm water. They generally douche at least once a day to ward off infections or to try to prevent pregnancy. It is estimated that at least 20% of American women ages 15 to 44 douche on a regular basis, and teenagers, African-American women, and Hispanic women tend to douche more often than other women.
Some government departments of health advise against douching because the benefits are mostly unproved and studies show that the drawbacks may be great. For example, using a douche could increase the odds of having an ectopic pregnancy. Ectopic pregnancies occur when an egg attaches itself outside of the uterus, and these pregnancies must be terminated for the safety of the woman.
Another drawback to douching is the possibility of upsetting the natural pH balance of the vagina. Disrupting this balance could lead to a yeast infection, which is treated with antifungal medication. On the other hand, some people believe that douching with certain kinds of vinegar, like apple cider, will help put the vagina back to its natural pH balance. Therefore, people sometimes use a vinegar douche without getting professional medical help, which is not recommended for safety's sake. An untreated yeast infection, besides being uncomfortable and painful, can weaken a woman's immune system or decrease the odds of getting pregnant.
AS FEATURED ON:
AS FEATURED ON:







By: Roman Ivaschenko

Apple cider vinegar is commonly used as an ingredient in vinegar douches.

By: 9nong

Using a douche could increase the chances of having an ectopic pregnancy.

By: isyste

A vinegar douche may be used to cleanse the vagina.

By: Africa Studio

Baking soda and water should be added to the vinegar when making a vinegar douche.

By: lusielia

Douching may cause some women to develop bacterial vaginosis.