A wrap dress is a great, versatile piece of clothing to have in your wardrobe. It is a v-neck dress designed with a slim-fitting top and a looser skirt, often with extra material across the bust and stomach, giving it the "wrap" look. This slimming cotton dress can be dressed up or down depending on the occasion.
The wrap dress was first designed in 1973 by Diane von Fürstenberg. That particular dress was a knitted jersey dress, and is part of the collection in the Costume Institute at the Metropolitan Museum of Art due to its influence on fashion. This particular piece of clothing has been popular virtually since then, though it has come in various iterations in more expensive boutiques and more luxurious fabrics, like silk. A wrap dress is a great wardrobe staple that flatters many body types.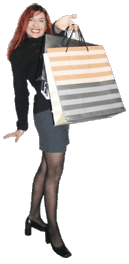 Wrap dresses look best on curvier, bustier women because it enhances the bust while accentuating and slimming the waist and flattening the stomach. The wrap dress does not always look as flattering on smaller women, though if you do want to wear a wrap dress in a smaller size, purchase one with less fabric on top and an adjustable waist tie to keep your torso in proportion. For more modesty in a wrap dress, you may choose to wear it with a camisole or a tank top underneath, or a blazer or cardigan on top.
Keep the print or pattern in mind when you are purchasing a wrap dress, and always try the dress on before you buy. Some prints look better or worse depending on your body type. Keep in mind that it doesn't matter how the dress looks on the rack or on the mannequin, only how it looks on you -- attempt to flatter your body.
You can wear a wrap dress to work and then dress it up for evening by putting on a pair of dressier shoes and some fancy accessories. Some women find that wrap dresses work well as maternity wear, as they are comfortable, stretchy, and forgiving without sacrificing style. Some women choose to wear leggings with the dress, for a more trendy look. You could also really dress it down and wear flip-flops, for example if you were going to a picnic or outdoor party. The jersey knit fabric often used is not prone to wrinkles, so it's good to wear on an airplane or to pack in your suitcase without having to worry about ironing.
AS FEATURED ON:
AS FEATURED ON:







Woman shopping