What Is an Acrylic Top Coat?
An acrylic top coat is a liquid that often comes in a bottle with a brush that resembles a bottle of nail polish. The top coat is typically applied in the same manner, over the top of a fresh coat of nail polish, and dries in about the same amount of time. It dries to a clear finish that seals the fresh nail polish against damage and protects the polish from chipping and fading with wear. Also, acrylic top coats add shine and glossiness to polishes that sometimes have a dull or even matte look when dry.
There are other uses for an acrylic top coat besides using it to protect nail polish. Sometimes, users put the top coat over a bare, unpainted nail to reduce splitting and breaking of brittle nails. Certain top coat manufacturers recognize that top coats are frequently used to help brittle and weak nails from breaking and tearing, and actually make a line of top coats infused with ingredients to strengthen the nails over time. Top coats can also be applied to refresh the color and shine of nail polish that has been applied days earlier, or simply to add a pleasant shine to bare nails after a manicure. Some women also apply acrylic top coats or even regular, clear nail polish to runs in stockings and pantyhose to keep the run from ripping any further.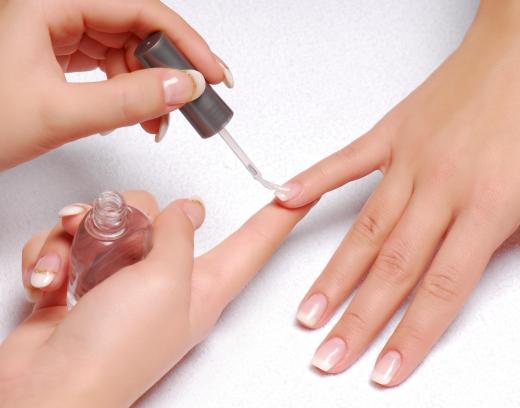 The price for an acrylic top coat is generally not much different from that of regular nail polish, although this varies somewhat depending on the brand. Additionally, the quality may vary from brand to brand, or even from product to product within one brand, a variation which is not necessarily reflected in the price. Some users find that a specific product lasts without chipping for much longer than another, or one product provides the most shine and appealing appearance for the longest period of time.
Common complaints about acrylic top coats usually include statements that the top coat did very little, or even nothing, to prevent chipping of the nail polish. For some users, this could mean that they saw chips within a few days when they were expecting weeks of wear, while others noticed flaws and chips after only a few hours. Other reviews sometimes include complaints that a top coat has bubbled or caused an otherwise uneven look. Reading reviews before purchasing an acrylic top coat can help eliminate some of the most likely inferior products.
AS FEATURED ON:
AS FEATURED ON:







By: Valua Vitaly

A nail technician applying an acrylic top coat to a woman's fingernails.

By: terex

Acrylic top coat can be used to stop a run in pantyhose.

By: Alliance

A top coat often serves several different purposes in nail grooming.

By: Elenathewise

Storing stockings in a refrigerator and applying clear nail polish may help stop runs in stockings.