What Is Anhydrous Lanolin?
Anhydrous lanolin is a yellow, waxy oil that is naturally produced by sheep and other wool-covered animals. In sheep, the substance gives the animal's coat waterproof properties. They produce lanolin similar to the way that humans produce sweat. Lanolin is used in many cosmetic products, but has a variety of household applications as well.
Cosmetic products often refer to anhydrous lanolin as simply "lanolin." The wax can be found in various moisturizers and lip balms, as it is known for its skin-rejuvenating properties. It is thought to have protective and healing qualities, and as such, is often used on dry skin or chapped lips. Anhydrous lanolin means the product is in its purified form with no additives. Non-anhydrous lanolin is used as a main ingredient in lotion or creams.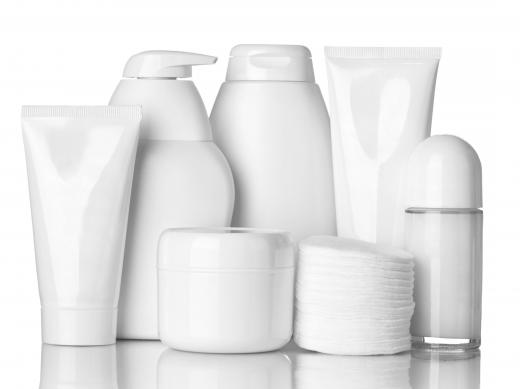 The chemical makeup of anhydrous lanolin is similar to the structure of lipids in humans, which is one of the reasons why the product is so effective on human skin. It is also used in some shampoos and conditioners. Unlike some animal products, lanolin is not collected in a way that harms the sheep when it is harvested from their wool. It is extracted from the wool only after it is shorn.
Anhydrous lanolin has many other uses beyond cosmetic applications. Its protective qualities make it effective for preventing the formation of rust on machinery, and it has been used for this purpose since medieval times. Shipbuilders use lanolin to protect against the rust-causing effects of seawater. It can also be found in many shoe and leather polishes, a testament to its water-repelling qualities.
Baseball players often use a lanolin-based product to break in a new glove, as lanolin helps soften and mold leather. Lanolin-based creams are often used by nursing mothers to relieve soreness and dryness. The wax is safe for babies to consume as well, making it an appropriate topical relief for breastfeeding mothers. Lanolin can also be found in dog shampoos and shaving creams.
Not everyone is receptive to anhydrous lanolin. The wax causes a skin allergy in some and should be avoided if any sort of reaction or rash is experienced. An allergy to the wax often stems from an existing allergy to the wool from which the lanolin is derived. Symptoms include itchy or red skin or even blisters in some extreme cases. A lanolin allergy can be particularly troublesome because of the vast number of products that contain the wax.
AS FEATURED ON:
AS FEATURED ON:







By: picsfive

Lanolin is found in many skin care products.

By: Igor Mojzes

Lanolin can be found in shaving cream.

By: Forgiss

Anhydrous lanolin may be used in shoe polishes.

By: Alexey Stiop

Lanolin is a waxy substance found on sheep's wool.

By: Deyan Georgiev

Lanolin is known for its skin-rejuvenating properties.