What is Bohemian Fashion?
Bohemian fashion — more recently developing the names "boho" or "boho chic" — is largely inspired by the fashions of the hippie movement of the late 1960s and 1970s. Although it does include some elements of the hippie style of dress, with its long, flowing clothing and relaxed aesthetic, it also incorporates elements of the style of the Romani. The style originated with artists and nomads, who often had little money to spend on clothing and thus wore older clothes and unfashionable styles.
The Basics
Freedom of motion is a major element of the bohemian style. Rather than tight pieces, bohemian dressers opt for baggy, comfortable clothing made from natural fibers. This may be by way of loose peasant blouses; wide boat-neck shirts; maxi dresses; caftans; or boho skirts, which are also known as hippie or Gypsy skirts. Pieces are usually flared and available in a variety of colors and patterns, although ethic patterns are most common. Romantic touches, like flower patterns and lace, are often included too.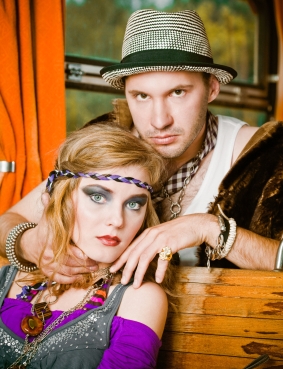 Layering is also key in boho fashion. Scarves, vests, jackets, and skirts are often worn on top of each other, as is the case with the couple to the right. A scarf can be worn not only around the neck, but as a headband, shawl, or belt. Mismatched items are often paired, with colors or patterns that wouldn't traditionally be worn together. The combination of items and colors creates a vagabond, thrown together look that aims to be relaxed but fashionable.
Certain styles of pants help create the bohemian look. Gaucho pants or harem pants are popular for their flared, baggy style which allows for lots of space and room for movement. Alternatively, leggings might be paired with a peasant blouse for a more modern look.
Men's Boho Fashions
Although not always as readily identifiable as women's clothing, bohemian fashion for men includes many of the same influences. Layering is important, and an outfit may include a pair of loose slacks or distressed jeans topped with a T-shirt, button down, or sweater — or some combination of these — and a scarf and vest. Hats and jewelry, including bracelets and rings, complete the look.
Accessories
Boho jewelry is as varied as the bohemian wardrobe, but it often includes items made of natural materials like silver, wood, and stones. Clunky bracelets, wooden bangles, and long beaded necklaces are often used, and multiple pieces are often worn together. Large gemstones, charms, big hoops and dangling earrings are also popular with the style. This fashion also frequently embraces ethnic flourishes, especially with jewelry that shows a Native American or South Asian influence. Just as the style itself aims to allow each person to display his or her uniqueness, jewelry to go with a boho outfit may be hand-made or a one-of-a-kind piece.
Shoes and handbags
Boho shoes are normally flat and comfortable, although heeled shoes are also popular for a modern twist. They usually come in neutral colors, such as tan, dark brown, or black, and natural materials are commonly used. The shoes do vary in style; they may be in the form of moccasins, sandals, or even leather boots. Either a pair of knee-high boots or gladiator sandles could be paired with a long Gypsy skirt.
Handbags are also available in a variety of colors and shapes, though a large, slouchy, patchwork design is often preferred. This purse has developed its own name, a "boho bag," and is very popular even among women who may not wear other bohemian fashions. Bags are often brightly colored with patterns, and may also feature embellishments such as beads, metal studs, or fringe.
Hair and Hats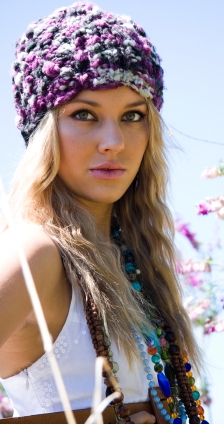 Boho chic hair is often worn long and loose. A loose, messy braid might hold the hair behind the head, while a small, tight braid at the hairline — called a boho braid — could be used to highlight the face. Headbands and hairbands are also common, as are scarves and different types of hats. A slouchy hat with a wide brim or a crocheted cloche hat, like that worn by the woman in the photo to the right, might be worn with nearly any bohemian outfit. For men, a patterned fedora, flat cap, or knit cap would fit with this style.
Where to Shop
Many clothing stores carry items that would work well for a boho chic look. Secondhand stores, in particular, often provide enthusiasts with a range of wardrobe materials and fit well with the origins of the style. Such stores often carry scarves, unconventional patterns, plaid skirts, and a variety of other items that can be used to create a unique style. The mixing of old and new is a common feature of bohemian fashion, and wearing clothing from traditionally different styles or eras can give each piece a new life and purpose.
Boho Attitudes
Traditionally, bohemian style includes lots of nonconformist attitudes. The term itself originated in late 18th and early 19th century France and was used to describe someone who chooses to live outside the mainstream. A "bohemian" came to refer to a poor artist who lived a nomadic lifestyle and rejected many of the trappings of traditional society. Several other styles, including beat and dandy, share some of the same attitudes and ideas, and there is often intermixing among them. Beyond clothing, bohemianism also involves anti-establishment action; critical thinking; individualism; and above all, an interest in art, whether it be music, visual arts, or literature.
Boho Fashion Videos
Karlie Kloss — Bohemian Chic Models in White:
Designer, Karlie Kloss's boho inspired collection is previewed on the runway.
Diane von Furstenberg's Runway Show:
Designer, Diane von Furstenberg's boho inspired collection is displayed on the catwalk.
AS FEATURED ON:
AS FEATURED ON:







By: lalouetto

Bohemian fashions are baggy and free flowing.

By: shwepsa

Bohemian skirts are usually long and flowing.

By: cannibale

Sandals are popular in bohemian fashion.

By: donyanedomam

Long beaded necklaces are often used in bohemian fashion.