Crystal jewelry is jewelry made from natural quartz crystal. Both making and buying crystal jewelry is popular today. The sparkling beauty of clear natural crystal may also be enhanced with added colors and finishes. There are many types of finished crystal pieces of jewelry as well as crystal beads for creating jewelry available.
Swarvoski is the oldest and most recognized name in crystal jewelry. It is an Austria-based four-generation family business. Daniel Swarvoski invented a crystal cutting machine in 1892. Swarvoski crystals are known for their high quality, brilliance, and pure characteristics. Many jewelry designers that work with crystal use Swarvoski crystal pendants and beads.
The colors of Swarvoski crystal beads range from light to darker shades as well as transparent, bold, and smoky looks. The color range covers reds, yellows, greens and blues, blacks and grays. One interesting Swarvoski crystal color, cantaloupe, changes from pink to green to gray depending on the angle of reflected light. Some colors of Swarvoski quartz crystal have coloring added, such as the violets, greens and blues.
Some Swarvoski crystal beads have an Aurora Borealis (AB) finish, which is a blend of rainbow colors. Since Swarvoski crystal contains a minimum of 32% lead, many prisms are created when the cut crystal reflects light. The AB finish increases the effects by creating rainbow prisms of color in the light.
Crystal beads are available in many sizes and shapes such as round faceted, cube, heart-shaped and bi-cone. Bi-cone crystal beads have tapered ends. Drop bi-cones have a hole on one end only so the bead drops down in jewelry such as earrings, necklaces and bracelets. Many different types of beaded crystal jewelry can be created to suit different fashion looks.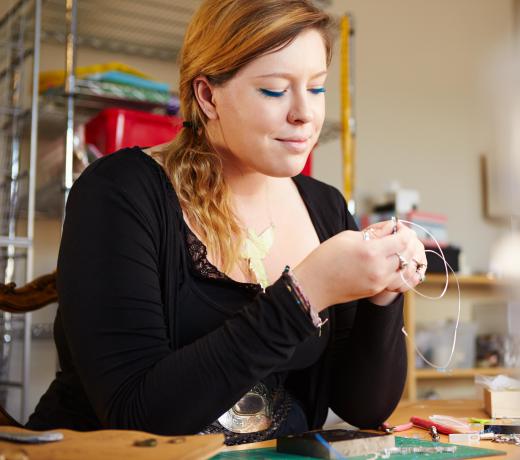 In addition to crystal beads, Swarvoski and other companies make crystal pendants in shapes such as stars, teardrops, crosses, crescents and snowflakes. Completed crystal jewelry is sold, as well as beads and pendants to craft stores. Crystal beaded and pendant jewelry are popular for bridal fashions and these pieces are often clear with touches of the wedding color. Some jewelry design companies make custom bridal crystal jewelry, with the clients choosing the crystal beads and pendants they want in their wedding day accessories.
AS FEATURED ON:
AS FEATURED ON:







By: arenaphotouk

Austrian crystal can be used to make beautiful floral designs.

By: bogdanserban

An Austria-based family business, Swarvoski is the oldest and most recognized name in crystal jewelry.

By: Monkey Business

Some small jewelry design companies make custom bridal crystal jewelry.

By: bokan

Bridal boutiques may carry crystal jewelry designed to be worn by the wedding party.