What is Detangling Spray?
Detangling spray is a hair product used by people who have very curly, thick, or easily tangled hair. It is a product that helps to coat the shaft of each follicle so that they are easy to separate and comb or brush apart. Brushing or combing tangled hair can damage the hair by stretching it or even breaking it. One way to boost the elasticity of hair is to wet it. For this reason, some people with very curly hair only comb their hair after washing it.
This product can be used by people of all ages, but there are many formulas specifically for children. This is because children often have hair that is finer than adult hair. The fine hair is easy to tangle. Furthermore, children often have scalps that are more sensitive than adult scalps, so the tugging and pulling required to detangle knots and snarls can feel especially painful to children. Detangling spray helps to make the tangles and snarls come apart more easily, which means that the child doesn't have to experience as much scalp pain.
For very thick knots, detangling spray may not work. Very thick, large knots sometimes simply have to be cut out of the hair, especially if they have become matted. The best way to avoid having to cut knots out of the hair is to groom the hair multiple times per day to keep knots from forming.
Using detangling spray a few times a day to manage small knots may be helpful. Regularly washing the hair and thoroughly combing it while wet is also helpful. Also, damaged hair is more prone to tangles, so keeping the hair healthy and getting regular trims is a good way to avoid tangles.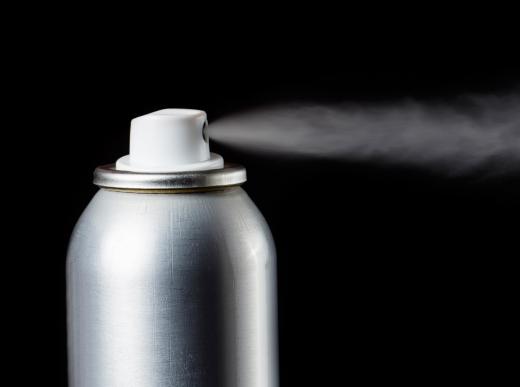 Children's detangling spray can usually be found with other products for children such as diapers, bottles, baby shampoo, and formula. It is available at many pharmacies, drug stores, and grocery stores. It is also usually a bit less expensive than detangling spray for adults. A bottle usually costs somewhere between $2 USD and $6 USD.
AS FEATURED ON:
AS FEATURED ON:







By: Laurent Hamels

Detangling sprays may benefit thick hair that becomes easily tangled.

By: m_dinler

Some detangling spray formulas are specifically designed for children.

By: indiraswork

Most detangling sprays and conditioners are formulated specifically for use on very curly hair.

By: Valua Vitaly

A detangling spray may be used in conjunction with a detangling shampoo in order to achieve maximum effectiveness.

By: Coka

Detangling brushes -- which have thick nylon or wooden bristles -- may be used in combination with detangling sprays.