Formal attire is clothing that is appropriate for extremely formal events, such as weddings, dances, and other special occasions. This type of attire can generally be broken into two categories: white tie and black tie. Determining what to wear to a formal event also depends on the time of day and context of the event. Unless an invitation specifically states otherwise, formal attire usually means a tuxedo and black bow tie for men and an evening gown or very smart cocktail dress for women.
White Tie
White tie is the most formal of formal attire. When an invitation states white tie or evening dress, a man is expected to wear a black tailcoat with black trousers with a stripe of black satin down the outside seam and white suspenders. Under the tailcoat, he should wear a stiff fronted white shirt with a wing collar, white bow tie, and white waistcoat. Shoes should be black patent leather.
Shirt studs and cufflinks should be white or silver. Optional accessories include a white pocket square and white boutonniere. White evening gloves may also be worn, although they are uncommon for most events. A black top hat is also traditional for white tie formal attire.
For women, the appropriate accompaniment to white tie formal attire is the ball gown. Depending on the event, it may be inappropriate to wear a gown that does not cover the shoulders. Although a ball gown is most appropriate, the strict requirements have relaxed somewhat, and a floor-length evening dress is often acceptable. Cocktail or tea-length dresses are really not suitable.
Long gloves, usually in white, are also common; they are removed when seated for dinner. Jewelry is typically made of precious metals and stones, and diamonds are always a popular choice. Bracelets should be worn over the gloves. A wrap or shawl and appropriate dress shoes should complete the outfit.
Technically, white tie should only be worn to events held after 6 PM. For daytime occasions, the equivalent formal attire is a morning coat.
Black Tie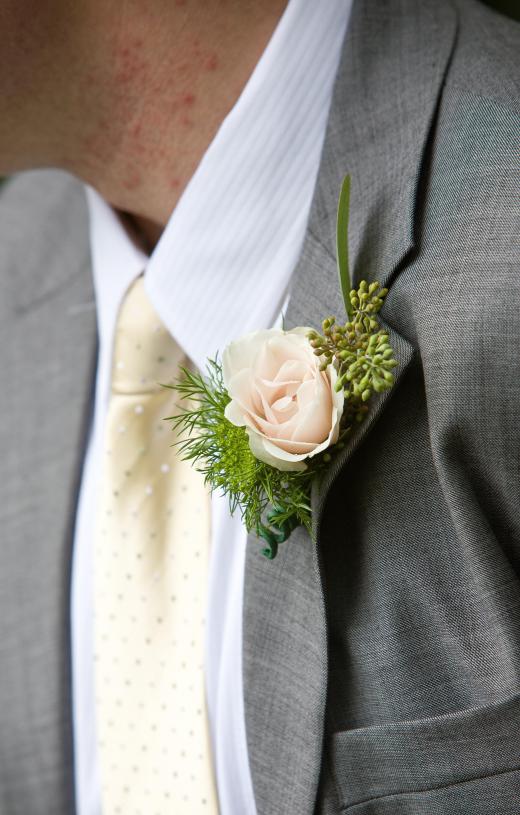 Black tie or "dinner jacket" is slightly less formal than white tie. It requires men to wear a standard tuxedo consisting of a black short coat or dinner jacket and matching black pants, usually with a stripe of black satin down the outside seam. A white dress shirt with a plain or pleated front and a wing or turndown collar should be worn, along with black cummerbund or evening waistcoat. As the name would suggest, a black bow tie is also required; a white pocket square can also be added. Shoes should also be black, usually in patent leather.
Modern black tie does offer some variations for men. Midnight blue is often an acceptable alternative to black, for example, although any other color is not appropriate for most formal events. Jackets may be single- or double-breasted; single-breasted jackets usually have one or two buttons, while double-breasted may have up to six. The lapel can be shawl, peaked, or notched. A touch of color in the vest, cummerbund, or pocket square can also personalize a look, although it should be subtle and limited to just one accessory.
Women generally have a larger choice of formal attire for black tie events than they do for white tie. While a formal evening gown is most traditional, a dressy cocktail dress or tea-length dress may also be appropriate. Jewelry choice should be still the best a woman owns, and shoes should be appropriate to the dress. When dancing is a part of the event, a woman should choose a dress that will allow for this; a skintight gown might not be the best option if a woman does not feel comfortable moving in it.
Daytime Formal Attire
The most formal daytime events usually require a black frockcoat or morning coat, accompanied with standard elements of white tie. Sometimes, particularly at daytime weddings, the morning coat or frockcoat is colored; light grey and white are occasional choices. At a wedding, men may not be required to wear white tie even with the groom and groomsmen are wearing white tie morning dress. Most guests at a formal day event can wear black tie formal attire, though the morning coat is more traditional wear.
Variations
For most formal events, some variations on the standard white/black tie options are possible. The national costume of the wearer's country may be worn to white tie occasions, when specified. Military mess dress may also be worn to most formal events. Heads of state and other government officials may wear additional accessories, such as sashes or medals. During the summer, a white dinner jacket can be worn for a black tie event in warm climates.
Formal vs. Semi-Formal
Traditionally, formal attire referred only to white tie; semi-formal indicated black tie dress. In modern times, however, a man would probably be overdressed if he wore a tuxedo to a semi-formal event. If in doubt, a guest should consider the nature of the event and contact the host or hostess if the invitation is unclear.
Video Tips
How to Tie a Bow Tie from TM Lewin
AS FEATURED ON:
AS FEATURED ON:







By: caimacanul

Formal attire for men includes a tuxedo and bow tie.

By: ksena32@ukrpost.ua

Formal attire for women includes evening gowns and very nice cocktail dresses.

By: kiptutku

People typically dress up for formal dinners.

By: Eric Limon

Men sometimes wear a boutonniere with formal attire.

By: fabi33

Formal attire should consist of dress shoes.

By: studiovespa

For women, pantyhose are a formal fashion essential.

By: photographmd

Formal attire may include a black tie.

By: Andrey Kiselev

Old-fashioned formal attire wouldn't be complete without a top hat.

By: James Steidl

White tie or evening dress apparel for men requires a tailcoat.

By: fotoatelie

A bridal gown is a more formal dress a woman wears on her wedding day.