While studying Coenzyme Q10 (CoQ10) — an antioxidant that naturally occurs in all aerobic organisms and plays an important role in cellular energy production — during the 1970s and '80s, researchers began to synthesize analogs and derivatives of CoQ10 to study as well. Idebenone is one of the synthetic derivatives that researchers produced during this time. Like CoQ10, idebenone is an antioxidant and is quite similar in structure — in fact, it can replace CoQ10 in cellular energy production — but it differs in that it is more water soluble. Since a few small studies have determined CoQ10 to improve wrinkles, some skincare product companies assume that its derivatives, such as idebenone, will also improve wrinkles. This has led to the production of idebenone cream — a skincare cream that is purported to have anti-wrinkle properties.
Although idebenone is quite similar in structure to CoQ10, there are some important differences. Idebenone is better at neutralizing certain types of free radical damage while CoQ10 is better at neutralizing other types. For example, idebenone is better than CoQ10 at fighting the free-radical damage caused by reduced blood flow but it may be more likely to allow free radicals to leak into cell mitochondria. Since differences between these two antioxidants do exist, one cannot assume that idebenone cream will effectively treat wrinkles based only on the fact that CoQ10 has been found to improve wrinkles in some cases.
Few studies have been done comparing idebenone cream with CoQ10 cream as a topical wrinkle treatment. Until more studies are done, it is unclear whether idebenone cream is truly an effective wrinkle fighter or not. There likely is, however, no harm in trying idebenone cream. Since it was first used clinically in the 1980s, idebenone has had a good safety record.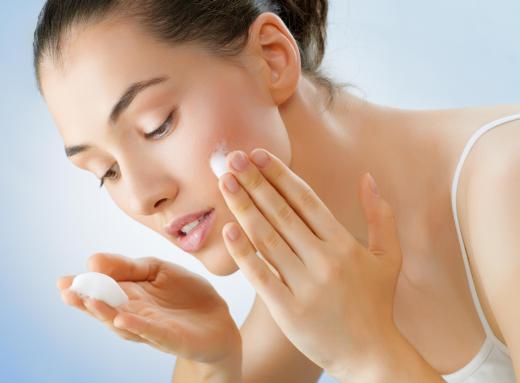 People who have had no luck with the proven treatments for improving wrinkles, such as vitamin C and tretinoin, may want to continue their search for an effective anti-wrinkle product and try idebenone cream. Though it is a risk and is relatively expensive, idebenone has potential as an antioxidant. It may or may not be worth a try. Users can conduct their own experiments and compare idebenone cream to other anti-aging skincare treatments that they have used. Since studies have not yet determined the efficacy of idebenone as a wrinkle fighter, adventurous consumers may want to try it for themselves and see whether it works on an individual basis.
AS FEATURED ON:
AS FEATURED ON:







By: picsfive

Idebenone cream is purported to have anti-wrinkle properties.

By: Konstantin Yuganov

Idebenone cream often used as a topical ointment for treating wrinkles.

By: Piotr Marcinski

CoQ10 has recently been shown to be moderately effective at reducing wrinkles in the skin.